You may be looking for...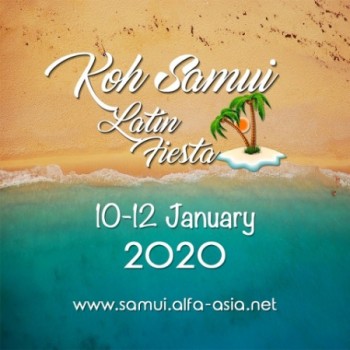 Friday, 10 January 2020
The Fair House Beach Resort and Hotel Chaweng, Amphoe Koh Sa-Mui, Surat Thani, Thailand 84320
Location:
Koh Samui, Thailand
Discount Tickets
Instructions
Visit the Tickets Page
On the payment screen enter the code LDC2020 in the Coupon code section and click Apply coupon
The discount will be applied to the total
Koh Samui Latin Fiesta 2020
Make an amazing start of the Year 𝟐𝐎𝟐𝐎, with the 3rd Edition of 𝐊𝐨𝐡 𝐒𝐚𝐦𝐮𝐢 𝐋𝐚𝐭𝐢𝐧 𝐅𝐢𝐞𝐬𝐭𝐚, 𝟏𝟎-𝟏𝟐 𝐉𝐚𝐧. Where you have Gorgeous Beach of Thailand, Crystalline water and an amazing Island Vibe of Sensual Festival of Bachata, Kizomba & Salsa.
This Unique Boutique Festival also features Beach Parties, Bootcamps, Workshops, Themed Socials & Shows.
This is Truly a Dream Holiday & Festival Destination.
Artists
~ 🇫🇷Yassine & Stéphanie | ꜰʀᴀɴᴄᴇ (BACHATA)
~ 🇲🇾Amar & Prabha | ᴍᴀʟᴀʏꜱɪᴀ (BACHATA & SALSA)
~ 🇮🇳Sanjay MJ | ɪɴᴅɪᴀ (KIZOMBA)
~ 🇵🇾Julio Aranda | ᴘᴀʀᴀɢᴜᴀʏ (SALSA)
~ 🇳🇱Valerie Alken | ɴᴇᴛʜᴇʀʟᴀɴᴅꜱ (SALSA)
~ 🇮🇳Bonny M Avanoor | ɪɴᴅɪᴀ (SALSA)
~ 🇻🇳Lucerne Ngo | ᴠɪᴇᴛɴᴀᴍ (LADIES STYLING)
~ 🇬🇧Darina Samuelova | ᴜᴋ (YOGA & FITNESS)
~ 🇲🇾Izzat | ᴍᴀʟᴀʏꜱɪᴀ
Confirmed DJs
~ 🇩🇪DJ MOSTI | ɢᴇʀᴍᴀɴʏ
~ 🇲🇾DJ SELVA | ᴍᴀʟᴀʏꜱɪᴀ
~ 🇸🇬DJ JB | ꜱɪɴɢᴀᴘᴏʀᴇ
~ 🇷🇺DJ ANN | ʀᴜꜱꜱɪᴀ
~ 🇹🇭DJ PLOY | ᴛʜᴀɪʟᴀɴᴅ
~ 🇷🇺DJ KIZKA | ʀᴜꜱꜱɪᴀ
More Festivals Near Here