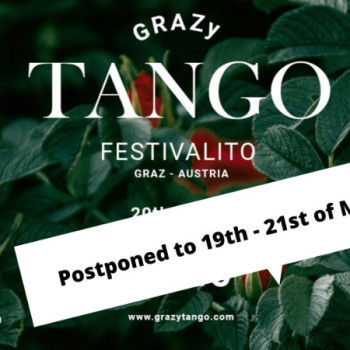 Friday, 19 March 2021
Körösistraße, Graz, Österreich
POSTPONED - GRAZy Tango Festivalito
POSTPONED
See link for details:
More Information
Unfortunately due to the Corona crisis we have to postpone our 5th edition of GRAZy Tango to 19th-21st March 2021. We hope you support us as well in 2021!
Our GRAZy Tango Festival in the beautiful city of Graz/Austria and each time attracts more national and international dancers. Participants love the friendly atmosphere, the high quality workshops in air-conditioned rooms with wooden floors and the wonderful Milongas with su-perb music!
Come and embrace!
Artists
Joscha & Sayaka
Chris & Demetrio
Confirmed DJs
Vlado Vladjla
Paolo Persiani
More Festivals Near Here