You may be looking for...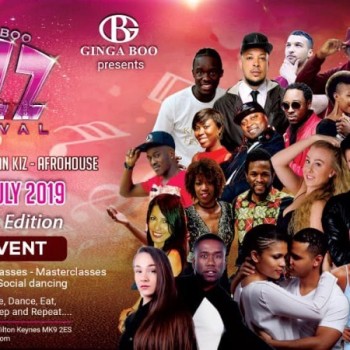 Friday, 26 July 2019
24 Haverstock Hill, London, UK
Discount Tickets
Instructions
Visit the Tickets Page
On the payment screen enter the code LDC in the Coupon code section and click "Apply coupon"
The discount will be applied to the total
Ginga Boo Kizz Festival UK #GBKF 2nd SummerEdition
Ginga Boo Kizz Festival UK
26-28 July 19 #GBKF 2nd Summer Edition
KIZOMBA - SEMBA - URBAN KIZ - AFROHOUSE

Sonny Varela Promotions/ Ginga Boo would like to welcome you to the very SECOND Summer edition of Ginga Boo Kizz festival! Based in the UK and over 3 days, we will be welcoming TOP INTERNATIONAL & UK TEACHERS & DJS who are already excited to meet you all & share their invaluable knowledge with you all.
Ginga Boo Kizz Festival UK GBKF focuses on:
DANCING | CULTURE | SHARING | FASHION | BEING 'YOU' | YOUR DANCE | YOUR STYLE BE YOU | BE FASHION

SCHEDULE / KIZOMBA / SEMBA / URBAN KIZ/ AFROHOUSE
FRIDAY
CLASSES / PARTY TILL LATE
SATURDAY
DAY WORKSHOPS (early start) / SOCIAL DANCING / EVENING CLASSES / PARTY TILL LATE
SUNDAY
AFTERNOON WORKSHOP / SOCIAL DANCING | 10PM | CHILL OUT STYLE
** Workshop will be run over 2 hours per teachers to allow the students to beneficiate in learning more, improving their dancing, more practise and spend more quality time with their favorite teachers
Kizomba | Semba | Urban Kiz | Afrohouse | Urban Tarraxo | Lady's styling | Ginga | Men's attitude | Musicality | Funana | Masterclass |
All students from beginners to advance will be catered for throughout the day workshop & evening classes.
NTERNATIONAL & UK TEACHERS
Ronie Saleh (SW) - Mickaela Jalkteg (SW) - Eliza Sala (ANG/NL) - Edu & Sonny UK (ANG/FR/CV)
Chamalo & Mirty (NL) - Lionel & Vanessa (FR) - Efy & Sean (FR) - Riquita Alta (ANG/UK)
Bruno & Iulia (UK) - Frans & Sarah (BR) - Jack & Sara ( SP) - Chris Afrodancehall (FR)
Lee Archer (UK) - Leny Leo (UK) - Jeydiskon Lima (UK) - Francesca Owen (UK)
More to be announced...
INTERNATIONAL & UK DJS
Dj Lenhy (FR) - Dj Hugo smile (FR) - Dj Galo (ANG) - Dj Koko (UK) - Dj Yellow (ANG/UK) - Dj Miro Kikola (ANG/UK)
Dj Gerson (UK) - DJ Ruivo (UK) - DJ Ralph Taylor (UK) - Dj Vish ( UK)
More to be announced...
SOUND SYSTEM ENGINEER :
Zsolt Joe Vasas a Dj but also the sound engineer that will be looking after our sound system at GBKF 2019.
Check his website www.pa-audio.co.uk
TAXI DANCER
To be announced...
VENUE & PARKING
The Cornerstone - 300 Saxon Gate Milton Keynes MK9 2ES
FREE PARKING SPACE
PRICES
£60 for the 30 full passes
1st 15 leaders & 1st 15 followers
www.gingaboo.com/shop
**** Keep an eye on the website as prices will change closer to the time****
Full Passes / Day Passes / Evening Pass / Party Pass / Social Pass / Masterclass to be announced...
Link for payment :
www.gingaboo.com/shop
GINGA BOO KIZZ FESTIVAL UK COMMUNITY GROUP :
To help you to get connected, help each others, finding rooms together, finding rides together etc...
https://www.facebook.com/groups/1985655668356693/
PHOTOGRAPHER & VIDEO
To be announced...
STALLS
If you are a fashion designer, supplier/seller of dance shoes, accessories etc... We can hire space for you to sell dance related products or services, get in touch at [email protected]
HOTEL & TRANSPORT
FREE CANCELLATION POLICY
All hotel prices are cheaper to book now or you have the free cancellation policy which are a little more expensive.
BOOK IT!!!
1- Holiday Inn
500 Saxon Gate, Milton Keynes MK9 2HQ
2 - Holiday Inn Express
Tongwell St, Milton Keynes MK15 0YA
* Tel 019087 681000 or [email protected]
2 Hotels Travelodge
3 - Travelodge
312 Midsummer Boulevard, Milton Keynes, MK9 2EA, United Kingdom
4- Travelodge Milton.K Central, 199 Grafton Gate, MK9 1AL
All hotels are free cancellation policy 30 days before arrival.
Airbnb are very affordable too/ check the link
www.airbnb.com
National train to Milton Keynes
Euston London / 25 mins - Birmingham / 48 mins
Reading / 1.35hrs - Bristol / 2.30hrs
Liverpool / 1.55hrs - Manchester / 1.30hrs
Brighton / 2hrs - Blackpool / 3.30hrs
Leeds / 3.30hrs - Southampton / 2.45hrs
Gloucester / 2.30hrs - Northampton / 16minutes
Nottingham / 2.30hrs - Oxford / 1.55hrs
Newcastle / 4.15hrs...
Like our page to follow up all our future events
FB : SVPromotions
https://www.facebook.com/svpromotions1/
check our website www.gingaboo.com
#kizomba #semba #urbankiz #afrohouse
Ginga Boo your dance & life
More Festivals Near Here