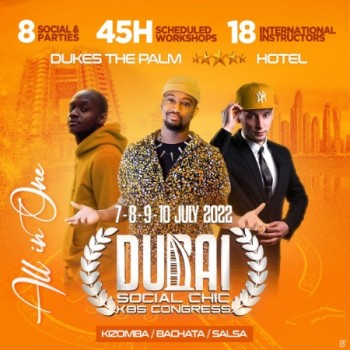 Thursday, 07 July 2022
Dukes The Palm, a Royal Hideaway Hotel, Palm Jumeirah - Dubai - United Arab Emirates
Dubaï Social Chic Congress 2022 – 1st Edition
💎Dubaï Social Chic KBS Congress - 1st Edition 💎 July 7/8/9/10 🌟
Hopefully these dates will be more suitable for most of you ..
We hears you all, locally & internationally.
The first Edition will be done.
Join us for summer vacations af the same hotel 5* luxe Duke Palm !! 😉
🌍The World of Masters DJs & Dance Instructors KBS 🌟Kizomba 🌟Bachata 🌟Salsa🌟Afrobeat🌟
👉 45 hours Scheduled Dance Workshop
👉18 International / 6 UAE Instructors
👉7 S'Chic KBS Social/Parties
Are you ready to experience S'Chic Kizomba, Bachata, Salsa, Afrobeat experiences?
👉8 S'Chic KBS Social & parties
🏝From Monday 7 July from 10am to 11 July 2022 from 3am ✈️:
📍Hotel Venue : Dukes The Palm, a Royal Hideaway Hotel
0503958280
https://goo.gl/maps/ZB8UHv6ExW2DFNnV9
📍Parties Venue:
Gala Brunch Show Party & The S'Chic
Palm Bay Dubai
054 445 1734
https://goo.gl/maps/AYicwvE5wq3dgGEp6
✅ S'Chic Full Pass (workshops + socials 💎Rates per persons entrance fees 💎
🔆Pass 3 Days AED550 - €132.50
🔆Pass 4 Days = AED670 - €160
🎉Boat & Gala /Brunch Parties = 385 Aed - €95
🎉Battle Kizz & Duke S'Chic Party = 250 Aed - €65
👉 https://www.weezevent.com/dubai-social-chic-kbs-dance-congress
✅Dubaï Activities - Adventures - Discovery - 6th to 11th July 2022
Transport included
♦️Jetski 1h - €85 = 350 Aed
♦️Typical Restaurant meal - Visiting Dubaï heritages - €45 = 187 Aed
♦️AbuDhabi Mosque - Visiting & Al Saadiyat Beach Lunch & beach 🤩 10 am to 6pm : €85** = 350 Aed
**Rates will be added separately to Pass & Travelers packages
For more informations contact us to [email protected]
or directly on the website:www.dubaisocialchickbscongress.com
Artists
🌟Lign Up 2022🌟 Still not completed
Just the Most Famous Artists !
"Quality KBS Workshops with Masters Instructors from around the world"
Kizomba
⭐️ Said DStreet - Battle Kiz (France/Ukraine)
⭐️Cora - Urbankiz/Lady Styling/Tribal Fusion (France-Grenoble)
⭐️🌟Anna & Andrew - Urbankiz/Kizomba (Russia)
⭐️🌟Jay & Julia - Urban Kiz - UAE / Zambia
⭐️ Hicham Lokito - Urban Kiz - UAE
⭐️🌟Praveen & Banu - Urban Kiz - GOA
⭐️🌟 Brice & Gaelle - Bachata Sensual - France
⭐️🌟Tim Tim - JM Bandal - Kizomba - Paris/France
🌟 Zuzana Filova - Semba - Slovak/ France
Salsa
⭐️Bien "Salsa Caribes" - Dominican Salsa - UAE/Dominica
⭐️🌟Anjel & Adi - Salsa LA - Israel
AfroHouse
⭐️ Ichigo Yakuza - AfroDance - Paris
🌟 ZION - Afrodance - Paris
Confirmed DJs
Djs
⭐️Dj Ichigo Yakuza - Paris
⭐️DJ Angelo - Paris
⭐️ Dj Bartel - Poland
⭐️Dj Max - UAE
⭐️ Dj Mizo - UAE
More Festivals Near Here
No listings found