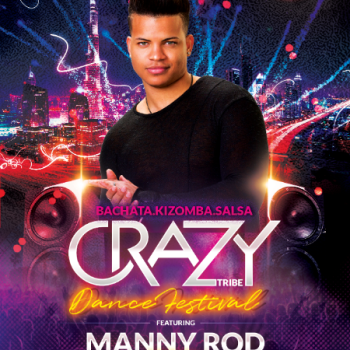 Thursday, 17 March 2022
Dubai Media City - Dubai - United Arab Emirates
Dubai Crazy Tribe Dance Festival
✪✪✪✪✪What to Expect✪✪✪✪✪
★ BRAND new festival geared towards best quality and experience in Dubai;
★ 3 dance styles: Bachata, Kizomba, Salsa.
★ 1 location – large dance floors with 3 rooms catering to the main dance style;
★ 30+workshops from the best world-class instructors;
★ 20 hours of great parties;
★ 2 grand show programs & spectacular live concerts;
★ Experience the shine and dazzle of DUBAI
★ Amazing experiences around EXPO 2020;
★ Build new connection and find new friends. Explore why Dubai is the DANCE HUB of the Middle East.
Artists
Artists
✪✪✪✪✪ARTISTS✪✪✪✪✪
LIVE CONCERT
✪ Manny Rod - Spain
BACHATA
✪ Abdel & Letty - Spain
✪ Melvin & Gatica – Spain / Sweden
✪ Luismi & Mariangela – Spain / Italy
✪ Demetrio & Benedetta - Italy
✪ Saj & Emi - UAE / Italy
✪ Giuseppe & Rossella - Italy
✪ Elvis & Stephi - Ukraine
✪ Lio Bachatero - Italy
More artists soon
KIZOMBA/URBANKIZZ
✪ Val'r & St'Effy Afrokiziak – France
✪ Sophie Madison – France
✪ Sanjay MJ – India
✪ Elsy –UAE
✪ DJ Bass –UAE
✪ DJ Max –UAE
More artists soon
SALSA
More artists soon
This Festival is brought to you by :
DANZA ARTE EVENTS by SAJ Y EMI
James and Alex Dance School
365 Dance Studios
Abu Dhabi International Dance Festival
In associations with
Latino Overdose
Passione Bachata
Bachata Ukraine Festival
More Festivals Near Here