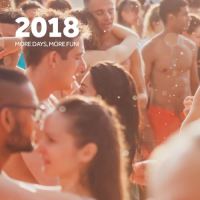 Monday, 25 June 2018
Location:
Rovinj, Croatia
Discount Tickets
5% Discount on all passes
Instructions
Go to the Tickets Page
Add the tickets to the cart
In the section that says "If you have a promotional code please enter it here" enter "LatinDanceCalendar"
Click the Submit discount code button and you'll see the discount
Festival Deals
Show More Deals
Featured Video
Croatian Summer Salsa Festival 2018 + 5% OFF Promo Code
Taking the most out of what Croatia and Rovinj have to offer, we've created a unique SEA, SUN & SALSA event. Event activities take place not only in workshop halls and hotels but also throughout the entire town of Rovinj where places like the main town square, MMC hall, narrow coastal alleys and hotel pools turn into colorful and vibrant scenery for what we call CROATIAN SUMMER SALSA FESTIVAL!
25th of June - 2nd of July 2018
Subscribe to FREE Email Updates in
Rovinj, Croatia
Join over 5,000 Latin Dancers receiving emails for Dance Updates, Discounts, Giveaways and more.
More Festivals Near Here
Thursday, 24 May 2018

Hotel Kotva, Sunny Beach, Bulgaria, 49th Khan Krum Street, Nesebar, Bulgaria, 8240
Thursday, 24 May 2018

Location:

Novi Sad, Serbia
Friday, 25 May 2018

Siemensstraße 1, 35041 Marburg, Deutschland
Friday, 25 May 2018

Korenbeurs LIVE, Kerkstraat 13, Made, Netherlands, 4921 BA
Discount Tickets

5% Discount on Passes

Friday, 25 May 2018

Location:

Stuttgart, Germany
Friday, 25 May 2018

Tanzschule Conny & Dado, Körösistraße 81, Graz, Austria, 8010
Wednesday, 30 May 2018

Location:

Lisbon, Portugal

Rua Voz do Operário, 13, Lisboa
Wednesday, 30 May 2018

Location:

Lisbon, Portugal

Lisbon Internacional Tango Festival, Rua Voz do Operário, Lisbon, Portugal