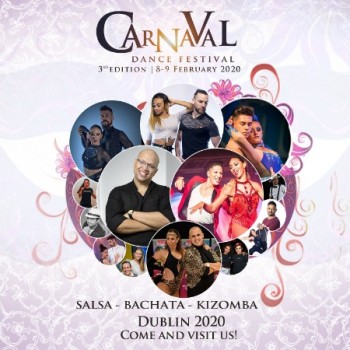 Friday, 07 February 2020
Finnstown Castle Hotel 4 Star, Newcastle Road, Finnstown, Lucan, County Dublin, Ireland
Location:
Dublin, Ireland
5% Discount on Full Passes
Discount Tickets
Instructions
Visit the Tickets Page
On the payment screen enter the code LDCCARNAVAL in the "Discount Code" section and click "APPLY"
The discount will be applied to the total
CARNAVAL Dance Festival
Carnaval -
Great city!!
Great congress!!
Great artists!!
Great fun!!
USBC and Infinity Baila Studios are super excited to invite you all to the star-studded 3rd Edition of "CARNAVAL Dance Festival". This year we come back bigger and stronger with 4 rooms, spread over three days. The venue is the amazing Finnstown Castle Hotel - with probably one of the best ballroom floors in Ireland.
We are now elevating the festival to congress level and with the packed line up of super International stars with Salsa, Bachata and Kizomba classes, from some of the most respected artists in their own genre of dance and like always there will also be offerings from our talented local Artists.
Introducing 90 minutes class format this year!!!
We have realized that 60 minutes class is not always enough, that is why this year some classes that required a lot of details on specific techniques will be 90 minutes long, helping you to have a better understanding and longer time to practice what you have learnt.
With this new format, you will have longer classes where you can learn and practice more with your favorite artists.
Artists
SALSA ARTISTS
Rodrigo Cortazar & Bersy Cortez (Mexico/ Venezuela)
Super Mario (UK)
Gil & Shelley (Mexico/ UK)
David & Johely | Venezuela
Angelica Duque ( Venezuela
Fidel Rodriguez
BACHATA ARTISTS
Antonio & Estefania | Spain
Cristian & Gabriela | Spain
Denis & Saray | Brazil/Spain
Alex & Maria | Ireland/Russia
Abel & Alina | Cuban/Lithuania
Pratheesh Kumar | India
KIZOMBA ARTISTS
Felicien & Isabelle (France)
Alcides Melo (Brazil)
Theodore Wolashie Awadzi (Norway)
Confirmed DJs
DJ Fabio (Italy)
DJ Dennis Dale (UK ) aka the Chemist
DJ Frenchie (Ireland)
More Festivals Near Here