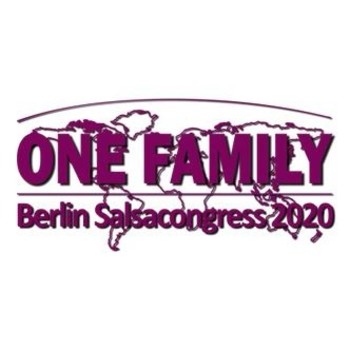 Thursday, 08 October 2020
Schöneberger Strasse 18, 10963 Berlin, Germany
Location:
Berlin, Germany
Discount Tickets
Instructions
Visit the Tickets Page
If the discount is not automatically applied then click the "Enter Promotional Code" and enter the code "LDC"
The discount will be applied to the total
Berlin Salsacongress 2020
*** 20 years! ***
In 2020 we will celebrate, we will celebrate 20 years of making history. And 20 years of being one family!

Wherever we go in this world, as dancers we meet likeminded people, connected with us through dance. And this is our mission. To bring them together in one place as one family.

Special Features:
- Heroes of the Dance Floor, your favorite Social Dancers
- Voluntary classification test with your favorite artists
- Progressive 2h & 4h learning units (Academies)
- Dancers from 70 countries around the world
- Advanced classes with classification test
- Best Stargate shows in our community
- Masterclasses with classification test
- Extraordinary show program
- Prefestival Intensives
- 3 Afternoon Socials
Artists
Terry & Cecile (Paris)
Chiara Tofani (New York)
De'Jon & Clo (New Orleans)
Marco Ferrigno & Ansima (Milano)
Brenda Liew & BLDC (Singapore)
Yanet Fuentes (Milano)
Panagiotis & Myrto (Athens)
Alegria DC (Montpellier)
Ramè DC (Santiago de Chile)
Maycheal & Mayra (Beirut/Dubai)
PiaoPiao (Beijing)
Eddie & Valentina (Montreal)
Julian M & Angela (London)
Alain & Katerina (Biarritz)
Amber Nahaya (Shanghai)
Andy & Yuliet (Oslo)
Inwoo Choi (Singapore)
Gaby & Estefy (Madrid)
Supermario (London)
Illimani (Denver)
Moe Flex (London)
Sharon Pakir (Melbourne)
Osbanis & Anneta (London)
Martina & Saoco (Ljubljana)
Busra & Jonatha (Parma/Venice)
Roz & Rachel (Zürich)
Thomas & Laila (Oslo)
Nera Kraljevic (Zagreb)
... and many more to be added!
Confirmed DJs
SALSA/MAMBO floor
DJ Ajad (Osaka/Bangkok, TH)
DJ Cycy (Paris, FR)
DJ Duke (London, UK)
DJ Patrick (Vienna, AT)
DJ Dmitri (Dubai, UAE)
DJ Tulimar (London, UK)
DJ Cisko (Brussels, BE)
CUBAN floor
DJ Timbalero (Strasbourg, FR)
DJ Rumbero (Karlsruhe, D)
DJ Cycy (Paris, FR)
BACHATA floor
DJ Julian M (London)
DJ Papapeter (Berlin)
More Festivals Near Here