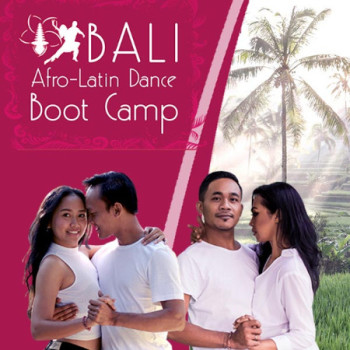 Friday, 31 May 2019
Ubud, Gianyar, Bali, Indonesia
Bali Afro-Latin Dance Boot Camp
Come to Bali! Dance with us!
Join us for an unforgettable long week-end of Bachata and Kizomba in paradise. 3 days on the Island of Gods with workshops and social dancing.
The concept of this boot camp is to bring a limited group of motivated dancers to the next level with professional and talented teachers.
How?
Progressive workshops – you will have 6 hrs for each style, during those 6 hours the teachers will progressively increase the level from A to Z.
Same group – 12 hours, you will get to know each other and feel more comfortable learning together, the teachers will also be able to go deeper into the techniques explanations.
Limited number of participants – quality over quantity, a small group allows the teachers to give more attention to every single participants. It also give you the chance to ask personality the teachers on specific matters.
Leader/Follower balance – We ensure that a fair balance will be kept between leaders and follower, we are ready to hire professional dancers if necessary.
Social dancing – every night go for dancing and apply your new moves, techniques and tips freshly learned during the day.
What are your options to join us?
A GOLDEN PASS that comprises:
6 hours of Bachata with Nia and Agung and 6 hours of Kizomba with Gung Is and Dewa (4hrs per day). Experience 12hrs progressive workshops with a limited number of participants to allow the teachers to focus more on every single person. The best way to improve your dancing skill efficiently
all the parties at various locations
3 nights in a breath-taking top quality accommodation, the 4 stars hotel KajaNe Yangloni, including 3 breakfasts, afternoon tea, free shuttle to Ubud center, free bicycle renting (see the hotel details bellow)
airport transfers to the accommodation from and to Bali-Denpasar airport
all transports to the venues
free time for you to enjoy at your leisure (relax by the pool, get a massage or explore the surrounding)
meet new friends and dance with the Ubud Salsa Community
A WORKSHOP PASS that comprises:
6 hours of Bachata with Nia and Agung and 6 hours of Kizomba with Gung Is and Dewa. Experience 12hrs progressive workshops with a limited number of participants to allow the teachers to focus more on every single person. The best way to improve your dancing skill efficiently
all the parties at various locations
meet new friends and dance with the Ubud Salsa-Bachata-Kizomba Community
Check our website for all the info and contact us at [email protected]
More Festivals Near Here