You may be looking for...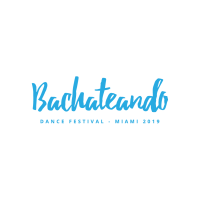 Wednesday, 03 April 2019
4833 Collins Ave, Miami Beach, Florida 33140
10% discount on Full Passes
Discount Tickets
Instructions
Visit the Tickets Page
On the payment screen enter the code LDC2019 in the "Coupon Code" section and click Apply
The discount will be applied to the total
* Only applicable for Full Pass. Not available for Miami Local Full Pass.
Bachateando Miami Dance Festival 2019
and For the 4th consecutive year, the event all Bachata and Salsa lovers have been waiting for, BACHATEANDO MIAMI! Taking over Miami April 3rd through April 7th, 2019!
Get your 3 day full pass at http://bachateandodancefestival.com/ ,
~~~~~~~~~~~~~~~~~~~~~~~~~~
Bachateando Miami Dance Festival 2019
April 3rd to April 7th, 2019▪ Miami Beach Resort & Spa, Miami, FL
Bachateando Miami Dance Festival:
A multi-day event where Bachata, a style of romantic music originating in the Dominican Republic, is celebrated in its totality. Bringing together novice & seasoned aficionados looking to learn, perform, watch shows, dance, and immerse themselves in the rich sounds of Bachata.
A "3 day Bachata heaven" for the Bachata connoisseur, Bachateando Miami is celebrated in one of the most beautiful cities around the world - Miami Beach, Florida. This is where event fans will have their senses tickled as they enjoy pre-parties, all star Dj's, pool parties, dance workshops, dance showcases & live concerts in the tropical surroundings of the Sunshine State.
This annual spring event is a culmination of the best Bachata has to offer, infused with all its parts: Music, Dance, Rhythm, Folklore & history, to create a destination where anyone from around the world can enjoy its dynamic experience. Top multinational Dancers, world renowned Instructors, genre-specialized Deejays, Latin Bands, local and international touring artists are featured to create the perfect resource to those looking to engross themselves in this flavorful Caribbean rhythm.
More Festivals Near Here