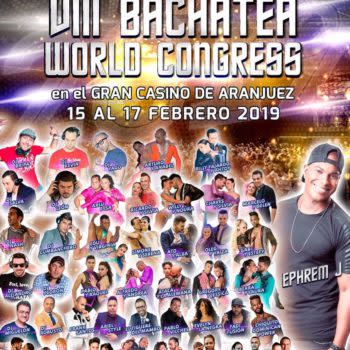 Friday, 15 February 2019
Paseo de la Castellana 259 B 28046 Madrid, Spain
Discount Tickets
Instructions
Visit the Tickets Page
Enter the code LDC in the "OFFER/PROMOTER CODE" section and click Apply Code
The discount will be applied to the total
25% OFF is subject to change. The regular discount is €5 per pass.
Bachatea World Congress 2019
🇪🇸🇪🇸ESPAÑOL 🇫🇷🇫🇷FRANrçAIS🇺🇸🇺🇸ENGLISH🇷🇺🇷🇺RUSSIAN
VIII BACHATEA WORLD CONGRESS - MADRID - ESPAÑA
15,16,17 de FEBRERO de 2019.
🇪🇸🇪🇸🇪🇸🇪🇸🇪🇸🇪🇸🇪🇸🇪🇸 ESPAÑOL 🇪🇸🇪🇸🇪🇸🇪🇸🇪🇸🇪🇸🇪🇸🇪🇸
El Congreso Mundial Bachatea regresa en 2019 en su octava edición!
El evento que une al mundo de la bachata, la mejor experiencia para bachateros y bachateras.
Artistas de todo el mundo: Instructores internacionales y los mejores DJs, estarán en Madrid el 15 de febrero de 2019 para un fin de semana inolvidable de Talleres y Fiestas
Además, los campeones de las competiciones más prestigiosas luchan en la competencia World Bachata Masters, y las futuras estrellas de la Bachata compiten en la Bachatea Cup.
🇫🇷🇫🇷🇫🇷🇫🇷🇫🇷🇫🇷🇫🇷 FRANrçAIS 🇫🇷🇫🇷🇫🇷🇫🇷🇫🇷🇫🇷🇫🇷🇫🇷🇫🇷
Le congrès mondial Bachatea revient en 2019 pour sa 8ème édition ! L'événement qui unit le monde de la bachata, la meilleure expérience pour les bachateros et les bachateras.
Artistes du monde entier : des professeurs internationaux et les meilleurs DJs, seront à Madrid le 15 février 2019 pour une fin de semaine incroyable avec des cours et des soirées.
Egalement, les champions des compétitions les plus prestigieuses s'affronteront à la compétition
du World Bachata Masters, et les futures étoiles de la bachata concourront lors de la Bachatea Cup.
🇺🇸🇺🇸🇺🇸🇺🇸🇺🇸🇺🇸🇺🇸🇺🇸 ENGLISH🇺🇸🇺🇸🇺🇸🇺🇸🇺🇸🇺🇸🇺🇸🇺🇸🇺🇸🇺🇸
The Bachatea World Congress returns in 2019 for it's 8th edition!
The event that unites the world of bachata, through the promotion of all types of bachata is the ultimate experience for bachateros and bachateras.
Artists from all around the world: International Instructors and the best DJs, will head to Spain 15 of February 2019 for an unforgettable weekend of Workshops and Parties
What is more, the champions of the most prestigious competitions battle it out in the World Bachata Masters competition, and the future starts of Bachata compete at the Bachatea Cup.
More Festivals Near Here