You may be looking for...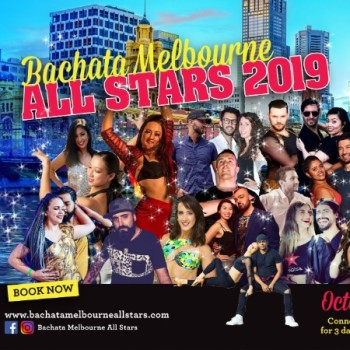 Friday, 18 October 2019
497 Queensberry St, North Melbourne, Victoria 3051
Location:
Melbourne, Australia
Discount Tickets
Instructions
Visit the Tickets Page
On the payment screen enter the code LDC in the "Discount Code" section and click "Apply"
The discount will be applied to the total
Bachata Melbourne All Stars 2019
We are proud to bring you the 2nd edition of the Bachata Melbourne All Stars Weekend!
We welcome Bachata lovers from all over Australia and abroad to experience Bachata Dancing in Melbourne as we highlight our talented Artist.
There is a reason Bachata Dancing in Melbourne is exploding and we would love for you to be a part of it.
Some things to expect:
- 2 DAYS OF WORKSHOPS
- 3 NIGHTS OF PARTIES AND WORKSHOPS
- ARTIST HOUR RETURNS
- PERFORMANCES
- 22 WORKSHOPS TO CHOOSE FROM
- OVER 30 ARTISTS
- 8 DJ'S
Artists combinations for Workshops (subject to change)
Will be the best value festival Australia has ever seen.
Follow updates on Instagram @bachatamelbourneallstars
Stay tuned. Be a part of it!
#OneCommunity
#BachataMelbourne
#BachataAustralia
#BachataHasTakenOver
Artists
- Stanly & Rhoda
- Paula Di Pietro & Kim Looker (Hooked on Dance - Melbourne)
- Lukas Enciso: Afro & Latin Dance Instructor & Trishka Sachi
- Mark Jansen & Ángela Fayth (The Salsa Foundation) (Infinity Dance Company Australia)
- Manuel Alejandro & Trishka Sachi
- Manuel Alejandro & Angela Fayth Dancer (Infinity Dance Company Australia)
- Shahar Hashai & Teri Hashai (Bachata Caliente Thursdays)
- Yu Han Angeline Gan
- Abdo Dalloul & Kiki Lopez-Espinal (Melbourne Salsa)
- Julian Beltrann & Kiki Lopez-Espinal (Melbourne Salsa)
- Ronaldo Nascimento & Zuska Zamykal (Melbourne Salsa)
- Alex Bryan & Laura Anderson (LocoMojo Dance)
- Ibra Cadabra & Cath Pak (Bachata Corazon Tuesday)
- Sanushka Ranasinghe & Danzar Latino Team
- Thari and Sabina - Australia
- Phillip Ncube & Nivanka Jay (Bachata ConeXion 'Wednesdays')
- Vatsalya Bohra & Tram Nguyen (Bachata Republiq) (Azuquita') (Bachata ConeXion 'Wednesdays')
- Ernesto Diaz & Giri Salsera (Bachata ConeXion 'Wednesdays')
- Hank Ratka & Andre Trivino (Bachata ConeXion 'Wednesdays')
More Festivals Near Here