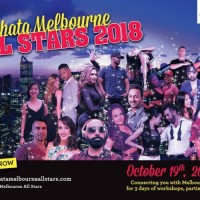 Friday, 19 October 2018
497 Queensberry Street, North Melbourne VIC, Australia
Location:
Melbourne, Australia
Discount Tickets
Instructions
Go to the Tickets Page
In the "Discount Code" section enter the code LDC and click Apply
The discount will be applied
* Note - Discount codes are only available for Full Pass, Saturday Pass and Sunday Pass.
Bachata Melbourne All Stars 2018
Welcome to the world of Bachata!
We present to you the Bachata Melbourne All Stars 2018!
Keep these dates free! October 19th, 20th and 21st
Bachata ConeXión has assembled the best group of passionate Bachata Instructors in Melbourne City you have ever seen.
The Artists assembled for Bachata Melbourne All Stars 2018 and the groups that they represent (check out the Sponsor/Partner Section on the website) are committed to putting the Social Dancer first and uniting together to bring you a historic weekend.
The 19 Workshops will be taken by:
Yu Han Angeline Gan
Leonardo Quiroz
Manuel Alejandro & Maeva DL
Maeva DL
Manuel Alejandro & Trishka Sachi
Lukas Enciso & Paula Di Pietro
Phillip Ncube & Giri Salsera
Lukas Enciso & Trishka Sachi
Paula Di Pietro
Mark Jansen & Angela Fayth
Stanly Yu & Rhoda Lai X2
Frankie Frankie
Carlos Gabriel & Alice Mawhinney
Sanushka Ranasinghe
Salem Kab & Kathleen Pak X2
Hank Ratka & Ela Lazar
Vatsalya Bohra & Tram Nguyen
We have also selected an amazing group of Bachata DJ's to keep you dancing and connecting all night.
DJ's
DJ Lukaloko
DJ Mezza - Australian Latin DJ
Soren-DJ Soren
Papi Ruso
Andrew Avi
Ducey Love
Program
Friday NIGHT Workshop
8pm to 9pm
Friday Night Social
9pm to 1am
Saturday DAY eight Workshops (choose 4)
10:10am to 2:40pm
Saturday NIGHT Workshop
8pm to 9pm
Saturday Night Social
9pm to 1am
Sunday DAY eight Workshops (choose 4)
11:20am to 3:50pm
Sunday NIGHT Workshops
8pm to 9pm
Sunday Night Social
9pm to 1am
Tickets, venue, workshop schedule, fulll information etc, can be found on the website which will be released in a few days.
STAY TUNED for this.
Bachateras & Bachateros of Melbourne City this is YOUR event. This is YOUR dance scene! Bachata Has Taken Over!
#BachataHasTakenOver #BachataDancingMelbourne #BachataConeXion #BachataMelbourneAllStars #BachataStorm
More Festivals Near Here
Thursday, 15 November 2018

Location:

Brisbane, Australia

Cnr Gregory Tce & Bowen Bridge Rd, Brisbane, Queensland, Australia 4006
Thursday, 22 November 2018

Location:

Brisbane, Australia

Brisbane Convention & Exhibition Centre, South Brisbane QLD, Australia
Friday, 18 January 2019

Location:

New South Wales, Australia

197 Braidwood Road, Goulburn, New South Wales 2580
Friday, 25 January 2019

Location:

Gold Coast, Australia
Thursday, 07 February 2019

Location:

Sydney, Australia

Sydney Bailar Kizomba Festival, Sydney, NSW, Australia, 2010
Friday, 08 March 2019

Location:

Perth, Australia

Fremantle, Western Australia
Friday, 26 April 2019

Location:

Sydney, Australia

Sydney International Bachata Festival - 55 Sherbrooke St, Rooty Hill, New South Wales, Australia 2766
Saturday, 27 April 2019

Location:

Sydney, Australia

Village Performing Arts Centre. Building 4/85 O'Riordan St, Alexandria NSW 2015