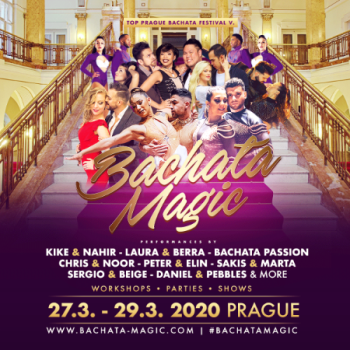 Friday, 27 March 2020
National House Smíchov, náměstí 14. října, Praha 5-Smíchov, Česko
Location:
Prague, Czech Republic
POSTPONED - Bachata Magic Festival
POSTPONED
See link for details:
More Information
►►►►► WELCOME TO BACHATA MAGIC FESTIVAL 2020 ◄◄◄◄◄
Already 5th edition of Bachata Magic Festival will blow your mind in GREAT GATSBY STYLE! Come and celebrate with us!
We are here to offer you magical experience full worthwhile workshops, unforgettable parties and caring servis all the festival!
WHAT YOU CAN EXPECT:
⭐ FAMILY OF TOP INTERNATIONAL TEACHERS
⭐ EXCLUSIVE AND OUTSTANDING HISTORICAL VENUE
⭐ LADIES BOOTCAMP
⭐ MEN BOOTCAMP
⭐ FINAL BATTLE
⭐ UNFORGETABLE ATMOSPHERE
⭐ PRAGUE, THE GEM OF EUROPE
Artists
Kike&Nahir
Berra y Laura Bachata Spain
Bachata Passion Dance Company
Chris & Noor
Sergio & Beige
Daniel & Pebbles
Sakis & Marta
Kriss & Natalia (Kriss & Natalia Bachata)
Peter & Elin
Miki& Nora
Honza & Ina
Radek & Daša
More Festivals Near Here