You may be looking for...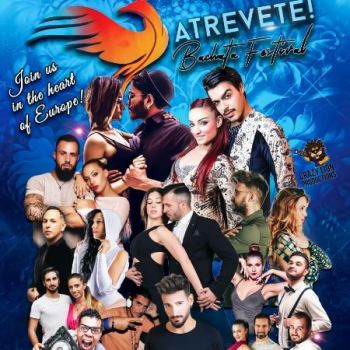 Friday, 06 December 2019
Pesarska cesta 12, Ljubljana, Slovenia
Discount Tickets
Instructions
Visit the Tickets Page
If the promo code has not been applied enter the code LDC in the "Enter a discount/promoter code" section and click "SEND"
The discount will be applied to the total
Atrevete Bachata Festival
📣📣Attention, attention all [email protected] and future [email protected]!!
We proudly present FIRST BACHATA FESTIVAL in Ljubljana, Slovenia - Atrevete! Bachata Festival!
Top artist arriving to one of the coolest cities in the world! 🤩
★ more than 40 hours of workshops
★ 3 days of pure bachata madness
★ 3 night parties with best possible atmosphere and dancing with artists 😍😍😍
★ social dancing during daytime
★ special bootcamps
• LOCATION: BAZA, Pesarska cesta 12, Ljubljana
• FB: Atrevete Bachata Festival
• IG: https://www.instagram.com/atrevetebachata/
• TICKETS: https://atrevetebachatafestival.com/tienda/
• info: [email protected]
whatsapp: +386 (0)31 008 667
What can you expect? 😎 The best of the best! 😎
CONFIRMED ARTISTS:
🔥 CORNEL & RITHIKA
🔥 MAURIZIO BOLLO & SIMONA BUONANNO
🔥 AIRAM Y VERO
🔥 DARIO Y SARA
🔥CARLOS & CHLOE
🔥 IGOR Y ROCIO
🔥 MARIA ANGELES
🔥 AZAEL SALAZAR
🔥 SORUSH LET'S PLAY BACHATA
🔥 NORA BACHATERA
🔥 ALBERTO Y ANNALISA
🔥 MORENO Y SHARON
LIVE CONCERT:
🔥 COSIMO
CONFIRMED DJs:
🔥 DJ YORK
🔥 DJ MANUEL CITRO
🔥 DJ BALITO
🔥 DJ BORICUA
MEDIA TEAM:
🔥 CRAZY LION
🔥 PIQANT PHOTOGRAPHY (Tadej Mulej)
and more to come 😎
Get your tickets at https://atrevetebachatafestival.com
Artists
CORNEL & RITHIKA
MAURIZIO BOLLO & SIMONA BUONANNO
AIRAM Y VERO
DARIO Y SARA
CARLOS & CHLOE
IGOR Y ROCIO
MARIA ANGELES
AZAEL SALAZAR
SORUSH LET'S PLAY BACHATA
NORA BACHATERA
ALBERTO Y ANNALISA
MORENO Y SHARON
Confirmed DJs
DJ YORK
DJ MANUEL CITRO
DJ BALITO
DJ BORICUA
More Festivals Near Here