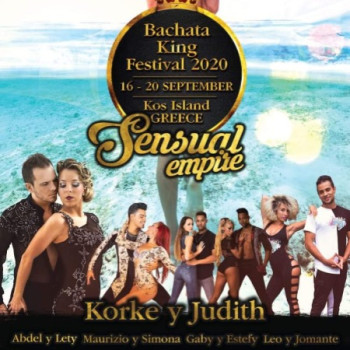 Wednesday, 16 September 2020
Kipriotis Village Resort, Odyssea Elyti, Kos, Greece
Bachata King Festival
★★★ Bachata King Festival 2020 ★★★
Bachata – Kizomba – Salsa
💥The Hottest dance event of the year is back bigger and better!!!! 💥
AN UNFORGETABLE DANCE EXPERIENCE
Do you want to experience a week full of unforgettable dance adventures? Do you want to live the dream of having your holiday in a beautiful Greek Island combined with one of the biggest International congresses around Europe?
Yes that's exactly what BKF is about!!! After an amazing second edition now get ready for the 3rd Epic edition!!!
The festival is mainly focused in Bachata and Kizomba but it also includes many more dance styles such as Salsa, Zouk, Reggaeton and many more for all the dancers and for all the levels.
You inspire us and we work hard to offer you the best dance experience. Our aim this year is to bring together people from different countries all around the World and make BKF a dance festival to be remembered!! It all happened on the second edition and now we are all looking forward to the 3rd edition.
Are you still not convinced that this is a festival not to be missed? Check out the Game Plan below and you will change your mind.
🔥🔥🔥 KOS ISLAND WILL BE ON FIRE 🔥🔥🔥
▬▬▬▬▬▬▬▬▬▬▬▬▬▬▬▬▬▬▬▬▬▬▬▬▬▬▬▬▬▬
⬇️⬇️Find all the details in the sections below⬇️⬇️
1.What to expect at Bachata King Festival
2. Artists line up
3. Tickets
4. Accommodation
5. Location
1. What to expect at Bachata King festival?
This year the BKF is going to be a 5 day and night event with plenty outstanding indoor and outdoor activities for everyone.
✅ Everything under 1 roof during the Festival
✅ Multi awarded outstanding Venue
✅ 30+ International Artists
✅ The best National Artists
✅50+ hours of Professionally structured Workshops
✅ Intensive Bachata course By the creators of Bachata Sensual Korke & Judith
✅ Masterclasses with our Best International Artists
✅ International and National DJS
✅ Over 50 taxi dancers
✅ National Bachatastars Final
✅ Bachata King Social Competition
✅ Pool Parties with our Best Mcs
✅ Epic Boat Party/Cruise with plenty of surprises (Thursday 17/9)
✅Night beach party
✅Thursday Dance Marathon
✅ Parties on different locations in the island during the whole week before and after the Festival
✅ Road trip in kos island by beach party (Wednesday 16/9)
2. Here is the line up with our confirmed artists
⭐⭐ CONFIRMED INT/NAL ARTISTS LINE UP⭐⭐
🌟KORKE & JUDITH - SPAIN 🇪🇸
🌟ABDEL & LETY - SPAIN 🇪🇸
⭐GABY & ESTEFY - DOMINICAN/SPAIN 🇩🇴🇪🇸
🌟MAURIZIO & SIMONA - ITALY 🇮🇹
🌟 LEO & JOMANTE - LITHUANIA 🇱🇹 🇺🇸
⭐ SOL & LAURA - UK 🇬🇧
🌟AMI EMIRATO - UK 🇬🇧
🌟KONRAD & CHRISTINA - DENMARK 🇩🇰
🌟ALEX & SVETLANA - GREECE/UKRAINE 🇬🇷 🇺🇦
🌟SAKIS RAI & MARTA - GREECE/POLAND🇬🇷 🇵🇱
🌟REZI ADEMI - GREECE 🇬🇷
🌟TOMI ILLES - UK 🇬🇧
🌟OMRI & SHIR -ISRAEL 🇮🇱
🌟 STAVROS & KATHRINE - GREECE 🇬🇷
MANY MORE TO BE CONFIRMED...
NATIONAL ARTISTS AND PERFORMANCE TEAMS WILL BE ANNOUNCED SOON
⭐⭐ DJS ⭐⭐
DJ TONY PECINO - SPAIN 🇪🇸
DJ NASSOS B - GREECE 🇬🇷
DJ RICO - GREECE 🇬🇷
DJ JULIAN - UK🇬🇧
More to be confirmed
⭐️⭐️⭐️MEDIA TEAM⭐️⭐️⭐️
📹 SOCIA DANCE WORLD #socialdanceworld
📹. PETROS SKOUTAS
📹. BACHATA MEDIA (Instagram)
3. TICKETS
⭐⭐ MAIN PASSES⭐⭐
AVAILABLE SOON
🎟️ VIP PASS
🎟️ FULL PASS
🎟️ DAY PASS
🎟️ MASTERCLASSES
🎟️ KORKE & JUDITH BACHATA COURSE
🎟️ BOAT PARTY PASS
🎟️ FULL PARTY PASS
MORE TO BE ANNOUNCED
PARTY PASS
4. Venue and accomodation
⭐⭐VENUE ⭐⭐
KIPRIOTIS 4 STARS RESORT will be the main hotel of the Bachata King Festival. It is a multi AWARD-WINNING hotel for it's services and it's world class facilities. You can book your room at a very special price through our website and get the most of what this amazing hotel has to offer.
5. LOCATION
KOS ISLAND
Located very close to the coasts of Turkey, Kos island is the second most popular island of Dodecanese, after Rhodes. Due to its large size, Kos Greece keeps a balance in tourism development. Through the last decades Kos has become popular for it's amazing nightlife, as millions of Tourists visit the island during the summer.
Kos Town is a mixture of Venetian and Ottoman architecture with interesting sightseeings, such as a Medieval Castle, an Ancient Agora, a Roman Odeon and of course the famous Asklepieion, an ancient healing centre, in short distance from the Town and great place to visit in your Kos holidays. The most impressive fact about KOS is that visitors can find large golden beaches with crystal water pretty much on every coast of the island.
CONTACT US
Do you have any questions such as:
Group offers
Becoming an Ambassador
Becoming a Volunteer
Becoming a Promoter
If yes then please do not hesitate to contact us through the links below or get in touch with one of the organizers.
Instagram: bachatakingfestival_official
Email: [email protected]
[email protected]
Organisers : Rezi Ademi, Stathis Pirpiris, Irini Ikonomidi
*We would like to inform you that by purchasing a ticket for the event you consent to be potentially included in promotional pictures during the event. If you wish to opt out please contact us and we will provide an opt out form which you can fill out upon arrival.
*For name change and cancellation policy please check our terms and conditions on our website.
Artists
Korke & Judith, Abdel & Lety, Gaby & Estefy, Maurizio & Simona, Leo & Jomante, Sol & Laura, Sakis & Martha, Alex & Svetlana, Melitta Siomos, Valentino & Joan, Tiago Miranda, Ami Emirato, Rezi & Lauren, Tomi Illies, Spyros & Marilena, Babis & Lidia, Konrad & Christina, Stavros & Katherine and many more to be confirmed!!!
Confirmed DJs
DJ Julian Mr M, DJ PECINO, DJ Nassos B, DJ RICO
More Festivals Near Here