You may be looking for...
Discount Tickets

10% Discount on Full Passes

Friday, 11 October 2019

Location:

Cologne, Germany

Dürener Str. 287, Köln, Deutschland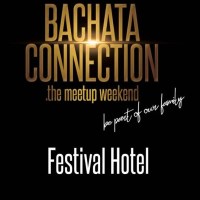 Friday, 12 October 2018
Leonardo Royal Hotel Cologne - Am Stadtwald Dürener Straße 287, 50935 Cologne, Germany
Location:
Cologne, Germany
10% Discount on Full Passes
Discount Tickets
Instructions
Visit the tickets page
On Checkout use the Discount Code: LDC
Bachata Connection .the meetup weekend
Welcome to BACHATA-CONNECTION!
We remain true to ourselves, but we are going bigger! In October 2018 will start the first big Bachata-Festival in Cologne (Germany). Our keywords are elegance and quality. Our concept and goal is the best ambiance and atmosphere for all dancers, all artists, all attendees, all helpers and volunteers. We want to bring the best teachers of Bachata and Sensual Bachata and the best dancers together in a beautiful place. We organize an event for learning, connecting and celebrating with a lot of first class workshops, an own track for beginners, 3 nights of parties with the best DJ's and spectacular shows!
3 Day's festival (12.-14.10.2018) ! 70 Workshops ! 4 Workshop Areas ! 3 Party Areas ! All in one Venue !
Our Artists & Teachers
Abdel & Lety (Cuba/Spain)
Ami Emirato (UK)
Andrea & Silvia (Italy)
Carlos Espinosa y M Angeles (Spain)
Chaves & Silvia (Spain)
Chris DC & Malvina (Germany)
Chami & Julie (Venezuela/Germany)
Daniel & Svetlana (Germany)
Extravagance Dance Company (Itay)
Felix & Sandy (Germany)
Gábor & Anna (Hungary)
Gabryel & Bego (Spain)
Geno & Steffie (The Netherlands)
Janis & Anamé (Germany)
Jony & Noe (Spain)
Jorge & Aroa (Spain)
Jorge & Lou (Equador/Germany)
Juan & Laurita (Spain)
Julian & Carmen (Spain)
Julio & Linda (Peru/Germany)
Karina Carina (Germany)
Mario & Annika (Germany)
Marko & Gesa (Germany)
Ramon & Jenny (Spain/Germany)
Riemert & Iwona (Belgium)
Toni & Laura (Spain)
Truji & Gloria (Spain)
Xavi & Natalia (Germany/Poland)
Our International DJs
Bachata DJs
DJ Chami
DJ Mario
DJ Ramón
DJ Ryan Miles
DJ York
Kizomba DJs
DJ aCid
Dj Chad Kizomba
DJ Jack
Dj Saï Saï
Dj Yossinho
DJs I Salsa
Dj Ariel
DJ Maxx | Smooth Bachata, Salsa y más
DJ Sambroso
DJ Sebastiano
More Festivals Near Here
Friday, 14 June 2019

Location:

Helsinki, Finland

Helsinki Zouk Festival - Sörnaisten Rantatie 33C - 4th floor, 00500 Helsínquia, 00500 Helsinki
Discount Tickets

5% Discount on all passes

Friday, 14 June 2019

Centar Gervais Opatija - Ulica Nikole Tesle 5, 51410 Abbazia
Discount Tickets

5% Discount on all passes

Monday, 17 June 2019

Location:

Rovinj, Croatia
Thursday, 20 June 2019

Location:

Barcelona, Spain
Friday, 21 June 2019

A Lo Cubano Festival - Gablonzerstr.9, 76185 Karlsruhe, Germany
Saturday, 22 June 2019

PalaRuffini, Viale Bistolfi, Torino, TO, Italia
Discount Tickets

5% Discount on all passes

Monday, 24 June 2019

Location:

Rovinj, Croatia