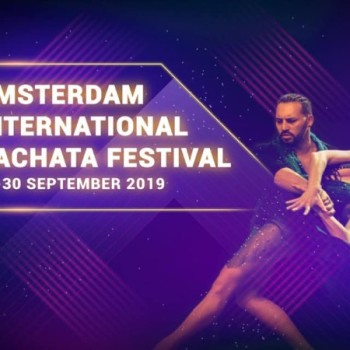 Friday, 27 September 2019
Isolatorweg, Amsterdam, Netherlands
Location:
Amsterdam, Netherlands
Discount Tickets
Instructions
Visit the Tickets Page and the discount will automatically be applied.
Amsterdam Int. Bachata Festival 2019
It just had to happen...with the growing demand for Bachata in Europe, we have decided to organize an additional Bachata event, alongside the now well-known Amsterdam Int. Salsa Festival.
There will be workshops on Friday, Saturday and Sunday at de Koning and at Candance Studio, which is across the street.
First artists to be announced
- Marcelo & Belen (AR) https://www.facebook.com/marceloybelen/videos/296423167747723
- Maycheal & Mayra (AR) https://www.facebook.com/MaychealMayra/videos/418723098670570
- Lau & July (AR) https://www.facebook.com/lauyjulybachata/videos/2086244411452516/
- Pep & Marina ((ES) https://www.facebook.com/SalsaJordania/videos/1116898531847073/
- Arnold Hathazi & Macarena Paton (RO/ES) https://www.facebook.com/arnold.hathazi/videos/vb.100001379603003/1812119258844043
- Romeo & Isabelle (ES/FR) https://www.facebook.com/romeoisabellebachata/videos/1157143591112752/
- Rezy & Ekaterina (GE)
- Lara Bambolina & Nico (ES)
- Janis & Zoe (GE) https://www.facebook.com/janisyzoe/videos/2311762169054928/
- Oscar & Raquel (ES)
- Fadi K (UK)
- Linda Gutierrez & Leslie (GE)
- Laili & Rogiani (NL)
- Rodolfo & Kai (NL)
- El Orfanato DC (NL)
- Adilson & Lisa - Latin Supreme (NL)
- Fabian & Amber (NL)
Dj's
Dennis Dale (UK)
Martinez (UK)
Royce (UK)
More to come...
FRIDAY SEPTEMBER 27
14:00 | Registration opens
15:00 | Start Workshops at De Koning and Candance Studios
18:00 | End Workshops
22:00 | Doors Open, Start Party
04:00 | End Party
SATURDAY SEPTEMBER 28
11:00 | Registration opens
12:00 | Start Workshops at De Koning and Candance Studios
18:00 | End Workshops
22:00 | Start Gala Party
22:30 | International Showcase
23:30 | Afterparty with Dj's Dennis Dale, Royce & Martinez
05:00 | End Party
SUNDAY SEPTEMBER 29
11:00 | Registration opens
12:00 | Start Workshops at De Koning and Candance Studios
18:00 | End Workshops
22:00 | Start Good Bye Casual Party
23:00 | Concert Dani J
06:00 | End Party
Prices Full Pass
August 2019 | €125
September 2019 | €135
@ Door | €145
Artists
- Dani J
- Marcelo & Belen (AR)
- Maycheal & Mayra (AR)
- Lau & July (AR)
- Pep & Marina ((ES)
- Arnold Hathazi & Macarena Paton (RO/ES)
- Romeo & Isabelle (ES/FR)
- Rezy & Ekaterina (GE)
- Lara Bambolina & Nico (ES)
- Janis & Zoe (GE)
- Oscar & Raquel (ES)
- Fadi K (UK)
- Linda Gutierrez & Leslie (GE)
- Laili & Rogiani (NL)
- Rodolfo & Kai (NL)
- El Orfanato DC (NL)
- Adilson & Lisa - Latin Supreme (NL)
- Fabian & Amber (NL)
Confirmed DJs
Dennis Dale (UK)
Martinez (UK)
Royce (UK)
More Festivals Near Here