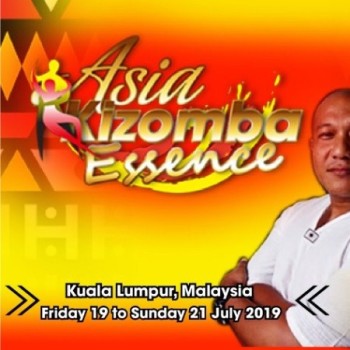 Friday, 19 July 2019
Savini Ristorante Italiano & Lounge & Tosca, Double Tree by Hilton.
Location:
Kuala Lumpur, Malaysia
AKE: Asia Kizomba Essence – 2019
ASIA KIZOMBA ESSENCE 2019
(A special debut event especially for pass holders of the recently cancelled ALIA: Afro-Latin Invasion Asia)
We are very excited to present to you the 1st ever Kizomba event with the real Kizomba essence in Asia & it will be happening right here in Kuala Lumpur!!!
It will also be held in conjunction with the World Kizomba Day Flash Mob on 21 July 2019.
Flash Mob details: https://www.facebook.com/events/350392965658876/
Dates:
19 to 21 July, 2019
Location:
The Intermark, Jalan Tun Razak, KUALA LUMPUR
1) Fri 19 July & Sat 20 July 2019 (Savini Italian Restaurant & Lounge, Level 2, Intermark)
2) Sunday, 21 July, 2019 (Tosca, Level 10 Intermark, Poolside)
Instructors:
1) Deej Lindt (Rotterdam, Holland)
2) Cherie Thum (Kuala Lumpur, Malaysia)
DJs:
1) Deej Lindt (Rotterdam, Holland)
2) DJ Jinggo Yus (Kuala Lumpur, Malaysia)
This idea was triggered off after ALIA (Afro-Latin Invasion Asia) announced its cancellation. It is not hard to imagine how the participants must feel especially when most would have paid for their flights & hotel.
With about 1 month to go, we have decided to host this event so that my fellow dancers who have bought their passes, flights & hotel will at least have a place to dance. It won't be a full-fledged festival, but it will be a great cozy event.
Price: (TBA)
[VERY Special Rates to ALIA Full Pass holders as we understand that you have financially committed to ALIA, so we will ask for as little as we possibly can.
We are doing this for the love of the dance, so we will endeavor to do our best to make your trip worth your while.
(Details to follow in a few days)
Non-ALIA pass holders, you all are most welcome to join our workshops & parties as well.
Kizomba/Semba hugs!!!
More Festivals Near Here