You may be looking for...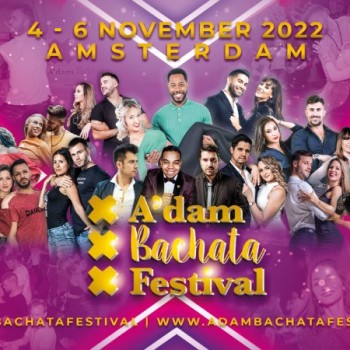 Friday, 04 November 2022
Location:
Amsterdam, Netherlands
Find Accomodation
* Check with the official website for the location and status of the festival before purchasing hotels
Featured Video
Adam Bachata Festival 2022
❌❌❌ ADAM BACHATA FESTIVAL 2022❌❌❌
Don't miss the third edition of this unique experience bringing the best Bachata artists in The Netherlands!
⭐Amazing LINE UP and workshops
⭐International DJs
⭐Surprising SHOWS
⭐Official clothing sponsor & stand by Cupidanza
⭐Jack & Jill competition with dancers from all around the world
⭐Social parties (Thursday, Friday, Saturday and Sunday matinée)
Artists
⭐Marco & Sara (Spain)
⭐Ronald & Alba (Spain)
⭐Kike & Nahir (Spain & Argentina)
⭐Dario & Sara (Spain)
⭐Janis & Zoe (Germany)
⭐Erik & Katinka (Denmark)
⭐Latin Dance Evolution (Belgium)
⭐Chami & Julie (Germany)
⭐David & Maya (Germany)
⭐Sonu & Evelyn (Germany)
⭐Vrajim (Finland)
⭐Tim & Sandra (Germany)
⭐Gianmarco & Jessica (Italy)
⭐Carmelo & Arianne (Italy)
⭐Emilien & Tehina (France)
⭐Alex & Valentina Bailemos (Netherlands)
⭐Erwin & Valentina Bailemos (Netherlands)
⭐Borja Bailemos (Netherlands)
⭐Pablo & Polina Bailemos (Netherlands)
⭐Bachata Passion (Netherlands)
⭐Yatin & Nikol (Czech Republic)
⭐Edi Alva & Debora (UK)
⭐Miguel & Sabrina (France)
⭐Maria & Radek (Poland)
⭐Ricky & Florence (Germany)
⭐Xi & Nikki (Germany)
⭐Guillermo & Anastasia (Germany)
& many more..
Confirmed DJs
⭐ DJ Alejandro
⭐ DJ York
⭐ DJ Chami
⭐ DJ Josh
⭐ DJ Limbolatino
⭐ DJ Cesc
⭐ DJ Pablo
⭐ DJ Juan
⭐ DJ Suman
⭐ DJ Rudro
& many more..
More Festivals Near Here