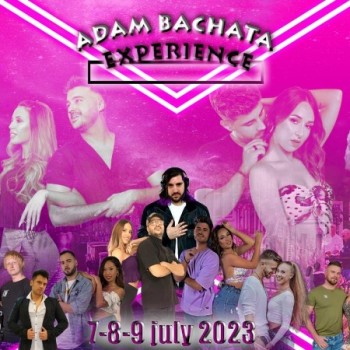 Friday, 07 July 2023
Location:
Amsterdam, Netherlands
Discount Tickets
Instructions
Visit the Tickets Page
On the payment screen enter the code LDC5 in the "ENTER THE CODE" section and click "Apply code"
The discount will be applied to the total
Featured Video
€5 Discount on Passes
Show Details
Adam Bachata Experience 2023
❌❌❌ JOIN A UNIQUE BACHATA EXPERIENCE IN AMSTERDAM! ❌❌❌
Bachata with a twist!
3 days of parties and workshops
Bootcamp of Bachata Sensual & Fusion and opportunity to perform with Dario&Sara and Carlos&Chloe
Special experiences and surprises in the city
International DJs: special guest DJ Alejandro
Social parties (Thursday pre-party, Friday, Saturday and Sunday matinée)
Artists
❌ Luis & Andrea (Spain)
❌ Carlos & Chloe (Australia)
❌ Janis & Zoe (Germany)
❌ Dario & Sara (Spain)
❌ Erik & Katinka (Denmark)
❌ Tim & Sandra (Germany)
❌ David & Maya (Germany)
❌ Bailemos Amsterdam (Netherlands)
❌ Bachata Passion (Netherlands)
& many more!
Confirmed DJs
❌ DJ Alejandro (Israel)
❌ DJ Cesc (France)
❌ DJ Josh (Germany)
& many more...
More Festivals Near Here