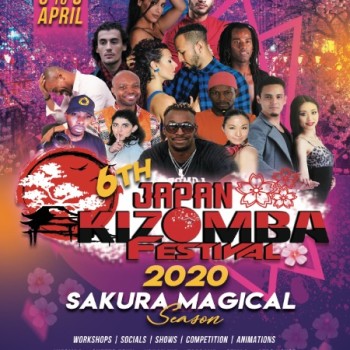 Friday, 03 April 2020
3-6-18 Kamimeguro, Meguro City, Tokyo, Japan
POSTPONED - 6th JAPAN KIZOMBA FESTIVAL 2020
POSTPONED
See link for details:
More Information
6th JAPAN KIZOMBA FESTIVAL 2020
Sakura magical season
Enjoy a weekend full of social dancing, workshops, shows and competition in Japan biggest kizomba event of the year.
Held in Tokyo during the magical sakura season is the perfect time to visit Japan for dancing and sightseeing.
This year venue will be in Nakameguro the home of the most famous spot in Tokyo to view the sakura cherry blossoms.
★Nakameguro Cherry Blossom Festival
https://tokyocheapo.com/events/nakameguro-cherry-blossom-festival/
★Nakameguro Cherry Blossom Illuminations
https://www.japanistry.com/event/nakameguro-cherry-blossom-illuminations/
【Artists】
-Azzedine & Andrea
-Yami & Marta
-Helio Santos
-Nemanja Sonero
-James Pogue
-Cyrina Msoul
-Yann Henderson
-SAS
-Ryu & Amalia
-More to come
【DJ】
-DJ Sai Sai
-DJ Smith
-DJ Nemanja
-More to come
【TAXI Dancers】
-SMile Kizz
-SAKURA KIZ
-More to come
【Media】
-Yann Photography
-More to come
【Passes】
https://japankizombafestival2020.peatix.com/
※Online sales available until thursday midnight.
【Visitor Passes】(Japan non residents)
https://japankizombafestival2020.eventbrite.com
※passport required when check in.
※people staying in Japan 6 months or more are considered Japan residents.
★Venue:
☆Main Venue: Studio Major (Nakameguro)
https://studiomajor.jp
☆Welcome party: Sheyda Bar (Roppongi)
https://www.sheydabar.com
☆Farewell party: Studio Pepe2 (Roppongi)
http://studio-pepe.com
★Date: April 2-6
☆4/2(Thu) Welcome party
☆4/3-5 Main event
☆4/6(Mon) Farewell party
Contact: [email protected]
FB: https://www.facebook.com/events/277136873215288/
★Hotels
☆Close to the venue
-Grand Residence Nakameguro (3 min walk)
https://grandresidencenakameguro.jphotel.site
-KKR Hotel Nakameguro (10 min walk)
https://www.kkr-nakameguro.jp
-Dormy Inn EXPRESS Meguro Aobadai (13 min walk)
https://www.hotespa.net/hotels/meguro/
-Tokyu Stay Meguro-Yutenji (14 min walk)
https://www.tokyustay.co.jp/hotel/YU/
-EBISUHOLIC HOTEL (19 min walk)
https://www.holichotel.jp
☆Budget options
-waves nakameguro (2 min walk)
https://www.waves-nakameguro.tokyo
-Bed & Breakfast RENGA DAIKANYAMA (19 min walk)
http://www.bb-renga.jp/daikanyama/english/
-Do-C (20 min walk)
https://do-c.jp/ebisu/
☆Hotels in Roppongi area (8 min from Nakameguro with metro, 170yen)
-Hotel Arca Torre Roppongi
https://arktower.jp/_m/arcatorre/
-remm Roppongi
https://www.hankyu-hotel.com/hotel/remm/roppongi
-Sotetsu Fresa Inn Tokyo Roppongi
https://fresa-inn.jp/roppongi/
-the b tokyo roppongi
https://www.ishinhotels.com/theb/roppongi/
-APA HOTEL ROPPONGI-EKIMAE
https://www.apahotel.com/hotel/shutoken/38_roppongi-ekimae/
-Candeo Hotels Roppongi
https://www.candeohotels.com/roppongi/
-Act Hotel Roppongi
https://act-hotel.com/roppongi/
More Festivals Near Here