You may be looking for...
Discount Tickets

10% Discount on Passes

Thursday, 20 February 2020

Paradise Garden Resort Hotel & Convention Center Boracay, Manggayad, Manoc-manoc, Malay, Boracay Island, Aklan, Philippines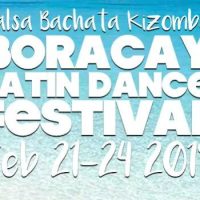 Thursday, 21 February 2019
Coast Boracay - Station 2 Beach Front, 5608 Malay, Aklan, Philippines
Discount Tickets
Instructions
Add the tickets to the cart on the Tickets Page
In the "Enter your coupon code" section enter the code "LDC"
Click the tick button and you'll see the discount
Featured Video
2019 Boracay Latin Dance Festival
2019 Boracay Latin Dance Festival - Classic foot-stomping, hip-shaking, booty-thumping afro-latin grooves on one of the most beautiful islands in the World!
Daily Parties, Shows and Workshops. Festival events will be held at Coast Boracay Resort and The Paradise Garden Convention Center in Beach Stations 2 & 3.
More Festivals Near Here
Thursday, 21 March 2019

Location:

New Delhi, India
Thursday, 28 March 2019

Ubud, Gianyar, Bali, Indonesia
Thursday, 28 March 2019

VCCI Tower, Số 9, Đào Duy Anh, Đống Đa, Hà Nội, Việt Nam, Hanoi, Vietnam 10000
Friday, 05 April 2019

Arakawa-ku, Higashinippori 5-50-5
Friday, 05 April 2019

VCCI Tower, Đào Duy Anh, Phương Mai, Đống Đa, Hanoi, Vietnam
Friday, 05 April 2019

Location:

Kathmandu, Nepal
Friday, 12 April 2019

Westar - 萬華區漢中街116號8F, Taipei, Taiwan 10846
Friday, 12 April 2019

raddison blu pune hinjewadi