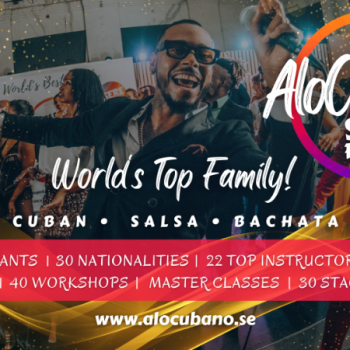 Friday, 07 October 2022
Radisson Blu Royal Park Hotel, Stockholm, Solna, Frösundaviks allé 15, 169 70 Solna, Sweden
Location:
Stockholm, Sweden
100 KR Discount on Full Passes
Discount Tickets
Instructions
Visit the Tickets Page
On the payment screen enter the code ALOLDC in the "Do you have a gift certificate or campaign code?" section and click "Submit"
The discount will be applied to the total
* Only applicable to Full Passes
12th ALOCUBANO Salsa Festival 2022 Stockholm
Familia! 😍 Let's Do It Again! MUST GO Salsa Festival. Marvellous Dance Experience!
The Authentic Cuba at your Fingertips!
🔹️ CUBAN 🔹️ SALSA 🔹️ BACHATA 🔹️ REGGAETON 🔹️ REPARTO
Created by a NATIVE CUBAN directly from SANTIAGO DE CUBA! Soy Julio Espinal i Cubano Soy!
✅ 1 Incredible Venue
✅ 500 Participants
✅ 270 Hotel Rooms
✅ 30 Nationalities
✅ 40hrs Workshops
✅ 30 World's Top Instructors & DJs
✅ 30 Stage Shows
✅ Master Classes
✅ 4 Nights of Parties
✅ 3 Days
Take your dance skills to another LEVEL!
Welcome to the family that unites!
Alocubano is a community of dancers & artists where everyone feels like home. At this dance congress we unite all dance styles & nationalities. MI CASA ES TU CASA!
Come and dance with us until sunrise!
LINE-UP 2022:
✔Seo Fernandez (Cuba/Italy)
✔Eneris Mulgado (Cuba/Italy)
✔Andy & Yuliet (Cuba/Norway)
✔Yoyo Flow (Cuba/Spain)
✔Barbara Jimenez (Cuba/Italy)
✔Danger & Yunaisy (Cuba/Spain)
✔Pedrito & Giusy (Cuba/Italy)
✔Adonis Santiago (Cuba/Russia)
✔Addy Mendoza (Cuba/Italy)
✔Alicia Velasco (Spain)
✔Leyanet Bell (Cuba/Israel)
✔Keke el Peluche (Cuba/France)
✔Javier Trujillo (Cuba/Sweden)
DJs:
✔DJ Javier La Rosa (Cuba/UK)
✔DJ Flecha (Cuba/UK)
✔DJ Soto-Mayor (Cuba/Sweden)
✔DJ Mauri (Greece/Netherlands)
AND MORE will be announced soon!
As soon as you step over Alocubano doorstep, you will be transferred to the magical world of rich music, cigars, omnipresent joy, spicy rhythms, rum & never-ending fiestas! Together with our Artists you will experience Cuban culture in its purest form.
Let's unite, celebrate the arts & create together unforgettable memories!
🤩 Qué volao!
La Familia Alocubano
Artists
✔Seo Fernandez (Cuba/Italy)
✔Eneris Mulgado (Cuba/Italy)
✔Andy & Yuliet (Cuba/Norway)
✔Yoyo Flow (Cuba/Spain)
✔Barbara Jimenez (Cuba/Italy)
✔Danger & Yunaisy (Cuba/Spain)
✔Pedrito & Giusy (Cuba/Italy)
✔Adonis Santiago (Cuba/Russia)
✔Addy Mendoza (Cuba/Italy)
✔Alicia Velasco (Spain)
✔Leyanet Bell (Cuba/Israel)
✔Keke el Peluche (Cuba/France)
✔Javier Trujillo (Cuba/Sweden)
Confirmed DJs
✔DJ Javier La Rosa (Cuba/UK)
✔DJ Flecha (Cuba/UK)
✔DJ Soto-Mayor (Cuba/Sweden)
✔DJ Mauri (Greece/Netherlands)
More Festivals Near Here