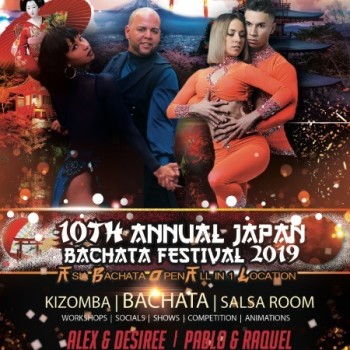 Friday, 14 June 2019
ホテルラングウッド / Hotel Lungwood - 東日暮里5-50-5, Arakawa-ku, Tokyo, Japan 116-0014
10th Japan Bachata Festival 2019
★10th Annual JAPAN BACHATA FESTIVAL 2019★
☆JAPAN BACHATA CUP & ASIA BACHATA OPEN☆
https://www.facebook.com/events/2170996823150197/
Biggest bachata event in Japan, with parties, workshops, performances, competition and much more. Enjoy 3 days with National and international artists. special prices for Japan non residents.
Artists:
-Alex & Desiree
-Pablo & Raquel
-Ryu & Amalia
-More to come
Shows
Parties
Workshops
Competition
Master Class
Salsa Room
Bachata Room
Kizomba Room
【Passes】
https://japankizombafestival2019.peatix.com/
【Visitor Passes】(Japan non residents)
https://www.eventbrite.com/e/10th-japan-bachata-festival-2019-tickets-54687651237
※ID required when check in.
※people staying in Japan 6 months or more are considered Japan residents.
★Date: June 14-16
★Place: First Place Tokyo (Hotel Lungwood)
Tokyo to, Arakawa ku, Higashi Nippori 5-50-5 B2F
https://www.firstplacetokyo.jp
☆FB:
https://www.facebook.com/events/1886861101360308/
☆Contact:
[email protected]
★Hotels
☆Event Hotel:
-Hotel Lungwood
http://www.hotellungwood.tokyo/
☆Hotels near venue:
●My Stays Nippori
https://www.mystays.com/en/hotel/tokyo/hotel-mystays-nippori/
●APA Hotel TKP Nippori Ekimae
http://www.apahotel.com.e.ju.hp.transer.com/language/shutoken/tkp-nippori-ekimae.html
●Hotel Sunny
http://www.hotelsunny.co.jp/m/
●Tokiwa Hotel
http://www.tokiwahotel.com/smart/detail.php?pg=english
More details soon!
More Festivals Near Here