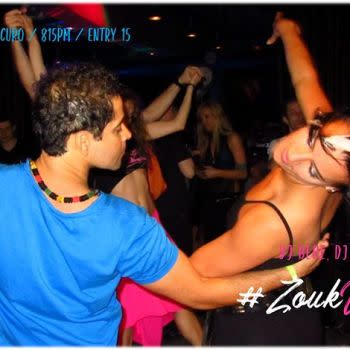 Friday, 15 November 2019
Cupo - 17 Mclachlan st, Fortitude Valley, Brisbane, Queensland, Australia 4006
Location:
Brisbane, Australia
ZOUK Uplifted Party at Cupo // Fortaleza Dance Arts in Brisbane
Last edited: Thursday, November 7, 2019
BRISBANE Zouk Dancers, we all had an amazing time at our last event and now we're gearing up to host the 7th Edition of our #ZoukUplifted Party by Fortaleza Dance + Arts!
We're going all out to give you:
-- The Most Beautiful (wooden) dance floor in Brisbane
-- Wall art, style + atmospheric lighting
-- Inspo from the best Zouk dancers projected on big screen
-- Fully Air-Conditioned
-- Super talented DJs playing all the best Zouk (DJ Bebe + DJ Jimmy Hong + more TBC)
-- Tropical Fruit
VENUE:
Upstairs at CUPO, 17 McLachlan St, Fortitude Valley
Next to the building currently with an enormous BONDS mural
Opposite cute-as-a-button California Lane in Fortitude Valley!
Nearest bus stop: outside Judith Wright Centre 4 min walk
Nearest train station: Fortitude Valley 7 min walk
ENTRY: $15 (Cash or Card)
BRAZILIAN OASIS BAR:
¬ Guarana - Brazilian energy drink $3
¬ Agua de Coco (Coconut Water) $2
¬ Bottled Water $1
¬ Chilled water from cooler (Free)
PLEASE NOTE: this will be an Honesty Bar (cash only) because we know you're all good people ;) Just take your drink from the fridge and pop your coins in the money box. Thank you, Obrigado!
For more info contact: Bebé Genivaldo Moreira Duarte, Rachel Findlay Moreira Duarte, or Fortaleza Dance Arts
Vivaz Dance Shoes
Exclusive Discount
VIEW DEAL
- Get $15 OFF your next purchase
Shipped from Australia. 30 day money-back guarantee.
More Events Near Here
No listings found
Classes Near Here
17 Gibbon Street, Woolloongabba
197 Boundary Street, West End

Kizomba

Kizomba and Semba is our passion!
163 Boundary St, West End, Q 4101

Bachata, Bolero, Cuban-Salsa, Forro, Gafieira, Kizomba, Merengue, Salsa, Samba, Tango, Zouk

Rio Rhythmics offers a unique Latin dance curriculum starting with Latin Dance Starter where you unlock the basics of 6 of the most popular styles in just 6 weeks. From there you can continue onto the full Foundation program which encompasses 8 different styles. Other Starter programs include, Samba, Tango and Cuban Salsa Starter courses.
Festivals Near Here