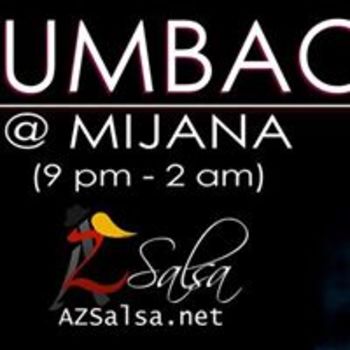 Friday weekly (Check links before attending)
Tumbao Fridays at Mijana, 1290 N. Scottsdale Rd., #107, Tempe, AZ, United States, 85281
Tumbao Fridays
Last edited: Friday, June 10, 2016
TUMBAO | Latin Fridays
~salsa, bachata & more~
Produced by AZSalsa.net
@ MIJANA
JUNE 10, 2016
featuring:
COMPLEMENTARY SALSA CLASSES (w/ paid cover charge) at 9 PM
taught by the finest instructors in town, this week we feature:
'BEGINNING SALSA' by
YANA NAFTALIEV!
Director of Latin Vibes Dance
Dance Instructor @ ASU
'ALL-LEVELS BACHATA' by
BRANDON ODOM!
Dance until 2 AM with
DJ BEN!
and guest djs playing salsa, mambo, and bachata, with a splash of merengue tunes for dancers!
- Finest instructors rotating weekly...learn how to dance salsa from the best!
- The finest salsa deejays in town!
- Live dance shows!
- Drink specials, 9-11pm!
- And salsa dancers!
$10, 21 & over, 9 PM - 2 AM
(cover includes the simultaneous salsa lessons and a $2 soft drink ticket)
9 PM doors open
9:15 PM - 10:15 PM Two simultaneous salsa classes
10:15 PM - 2:00 AM Dj Ben & guest djs
Mijana is located at 1290 N. Scottsdale Rd., #107 Tempe 85281 (NE of Scottsdale / Curry, behind Carl's Jr)
More Events Near Here
No listings found
Classes Near Here
Festivals Near Here