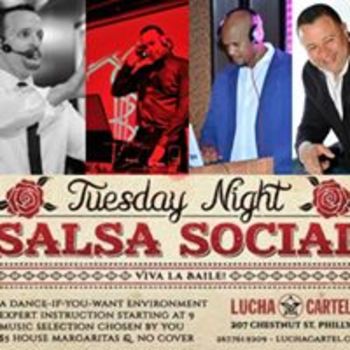 Tuesday weekly (Check links before attending)
Location:
Philadelphia, USA
Tuesday Night Salsa Social at Lucha Cartel
Last edited: Monday, September 26, 2016
Jose Luis Maldonado, Richie Rumbero Hernandez & DJ Big George will be in the mix Tuesday Nights at Lucha Cartel Located on Chestnut Street in Old City.
Enjoy a Free Dance Lesson with Michael Andino along with a Great Food and Drink Menu!
Super Bartender Sheldon Lovelace will be in the house Serving drinks all night.
Free Addmission all night long
Free Street Parking after 10pm
Tuesday nights in Old City just got more exciting. Tell all your friends and come check us!
More Events Near Here
No listings found
Classes Near Here
Bachata, Cuban-Salsa, Merengue, Salsa
Festivals Near Here