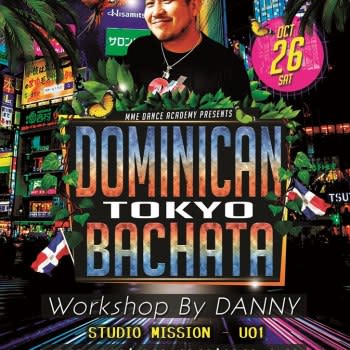 Saturday, 26 October 2019
スタジオ ミッション - 道玄坂2丁目10番地12号新大宗ビル4号館B1F,7F,8F,9F, Shibuya, Tokyo 150-0043
Tokyo もっと!Dominican Bachata by Daniel Sakibaru(Danny)
Last edited: Sunday, October 13, 2019
To all the bachata lovers,
We are 🔴Matrix Music Entertainment🔴 which consists of Instructor Daniel Sakibaru and his team.
As Dominican Bachata enthusiasts, we would be very happy if there were more people who dance Dominican Bachata in Japan🇩🇴
We have planned these workshops hoping to reach out to bachata community in Tokyo and maybe increase the number of Dominican Bachata dancers💃🕺
Bongo and Güira (instruments) will be used to spice up the musicality lesson🎶
Danny will also be teaching how to control your body in order to create more detailed and "cool" steps as well as connection for pair work which is essential when dancing Dominican (or any) bachata✨
If you are new to Dom. style, you are welcome to check out this fun and exciting dance✌️
If you are an experienced dom. dancer, you will still find something new and interesting through Danny's fun and full-of-musicality lessons for sure🙌
⚠️To have an idea of the numbers, we would appreciate if you could click the "join" button (if you have decided to come)⚠️
We very much appreciate your support in introducing Dominican Bachata to Japanese dance community🙏
and look forward to seeing you at workshops❤️
▶️Date and Time
10/26 SAT
18:00 - 19:00 Roots & Musicality
19:00 - 20:00 Footwork
20:00 - 21:00 Partner work
Details of the lessons to be announced further on FB page.
▶️Price
1WS 2,000 yen
2WS 3,500 yen
3WS 4,000 yen
▶️Place
Studio Mission
Shibuya-Ku, Dougenzaka 2-10-12 , Shintaisou Bld. #4
(Room) → # U01 
* Room No. may change
If you have any question, send us a message to our FB page!
https://www.facebook.com/M.M.E.BACHATA/
*******🕺Iustructor 🕺*******
🔴Daniel Sakibaru (Danny)🔴
Bachatero based in Nagoya.
Director of Dom. Bachata Shcool "Dominican Swag" created by Dom. Bachata pioneer Samy El Magico. Danny is currently teaching in Tokyo, Nagoya, Kobe, Okinawa etc.🗾
Danny also have taught in workshops overseas spreading his love of bachata🌏
✈️ Recent International WS✈️
May 2018 France🇫🇷
Nov 2018 Dominican Rep.🇩🇴
Feb 2019 Brasil 🇧🇷
Oct 2019 Spain🇪🇸
**********************************
More Events Near Here
No listings found
Classes Near Here
Festivals Near Here