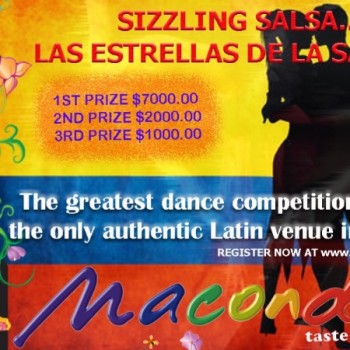 555 Tarragindi Rd, Salisbury QLD, Australia
Location:
Brisbane, Australia
Sizzling Salsa Competition
Last edited: Friday, December 6, 2019
WHAT IS THIS? Sizzling Salsa – Las Estrellas de Salsa is a competition of couples performing salsa dance. There are four Saturday nights of eliminations - 30 November, 7, 14 & 21 December 2019. Once the one-off registration is complete, you will receive notice of the date & time of your performance. Muy buena suerte! The Final is on Tuesday 31st December 2019, New Year's Eve, where the three winning couples will compete in the final five most popular couples selected by the people. The vote is final & updated online as voting occurs. End 2019 with a BANG! Register now! WHAT IS THE PRIZE? YES, you heard right! The 1st Prize is $7000, the 2nd Prize is $2000 & the 3rd Prize is $1000 cash. The people's vote determines who is eliminated & who stays for the final on the night of 31st December 2019.
WHO CAN ENTER THE FESTIVAL? Sizzling Salsa – Las Estrellas de Salsa is open to anyone from 18 years of age & up. Couples only. No individual performances or performances of more than two. Macondo welcomes all couples, LGBTIQ & other, and amateurs who just love dancing salsa!
HOW DO WE REGISTER AS A COUPLE? To register, you need to fill in the online registration information, pay the one-off $50 individual ($100 per couple) registration fee & sign the Terms & Conditions of Entry form. Once entered, refunds are not possible. Once registration has been received, an email notification for payment will be sent and the date and time of performance. *
WHAT IS REQUIRED? You need to be a good dancer. Amateurs welcome! The performance limit is 3 minutes & no more, so you need to rehearse & time your performance. Anything over will be "gonged" or eliminated from the competition. Dance costume essential. The floor is marble so wear appropriate shoes for performance. You must supply your music in MP3 format two weeks in advance. Non-supply of the music & registration documents will mean forfeit of entry & entry fees.
WHO ARE THE JUDGES? The people in the audience vote for you via Vox Vote online. Voting time is limited to a short window to prevent vote rigging. Bring your supporters with their smart phones to secure your winning position. All results will be made available on each night to the voters & the competitors via the same app.
WHO IS THE AUDIENCE? The festival is open to the public. Tickets are available for $30 each night. Book quickly! There is seating for 100 people. Tickets are non-refundable.
FESTIVAL SPONSORS Email us [email protected] for our packages
WELCOME Macondo welcomes all couples, LGBTIQ & other.
LIABILITY Macondo accepts no responsibility for injury through performance in the competition on-site. We recommend that competitors secure private personal injury insurance before registration.
FINALISTS - The lucky 5 who make it to New Year's Eve Final of Sizzling Salsa are welcome to present a new show. You will be contacted once the people's vote is finalised on the fourth elimination night of 21 December 2019. You will have time to change costume and re-choreograph your performance over Christmas. If you are one of the lucky five, you will need to resubmit the music for the performance on 31 December 2019.
THE VENUE Macondo Jardin is the only authentic Latin venue in Brisbane with full bar & kitchen, Colombian cuisine, dinner seating for 100 people, air-conditioning, bathrooms, pool room, fountain, gardens & staging with full lights & sound. https://www.macondojardin.com/
QUESTIONS Contact us at this email [email protected]
*Disclaimer: A minimum number of couples required to proceed with the competition.
Vivaz Dance Shoes
Exclusive Discount
VIEW DEAL
- Get $15 OFF your next purchase
Shipped from Australia. 30 day money-back guarantee.
More Events Near Here
No listings found
Classes Near Here
17 Gibbon Street, Woolloongabba
197 Boundary Street, West End

Kizomba

Kizomba and Semba is our passion!
163 Boundary St, West End, Q 4101

Bachata, Bolero, Cuban-Salsa, Forro, Gafieira, Kizomba, Merengue, Salsa, Samba, Tango, Zouk

Rio Rhythmics offers a unique Latin dance curriculum starting with Latin Dance Starter where you unlock the basics of 6 of the most popular styles in just 6 weeks. From there you can continue onto the full Foundation program which encompasses 8 different styles. Other Starter programs include, Samba, Tango and Cuban Salsa Starter courses.
Festivals Near Here