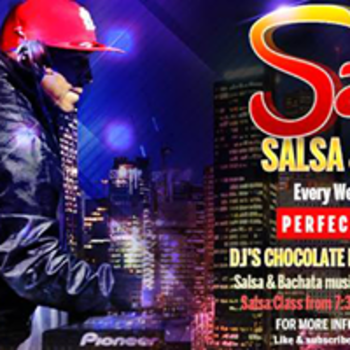 Wednesday weekly (Check links before attending)
Maloney's Hotel at Corner Pitt Street Sydney, 81 Goulburn Street, Sydney, NSW, Australia, 2000
Location:
Sydney, Australia
Salsaton Every Wednesday night
Last edited: Wednesday, September 19, 2018
★Salsaton Wednesday's★
★★ Maloney's Hotel 81 Goulbourn St CBD ★ ★
★ Free Entry all night long ★ ★
★ Salsaton presented by Dj Dwight 'chocolate' Dwight Escobar Salsa Warm-up Class from 10:00pm- till late Reggaeton a Latin Mix from 11:00pm Dj Dwight Escobar & Special guest
Maloneys hotel es el Sitio de Encuentro para todos Los Latinos
con las bebidas y platos mas economicos de la Ciudad.
Este y todos los miercoles nos vemos en Malonesy Hotel.
Salsaton Salsa con Reggaeton
Vivaz Dance Shoes
Exclusive Discount
VIEW DEAL
- Get $15 OFF your next purchase
Shipped from Australia. 30 day money-back guarantee.
More Events Near Here
No listings found
Classes Near Here
140 Francis St, Bondi, 2026, Sydney. (Thomas Hogan Reserve)

Bachata, Cha-Cha, Cuban-Salsa, Merengue, Salsa

Latin Dance Classes in Bondi. Cheapest classes in Sydney, starting at $85 for 6 weeks unlimited classes. Fun & Friendly environment with professional national and international instructor, former Australian Pro-am Bachata Champions and 2nd place Australian professional Male Latin & Bachata Soloist
Level 1, 93 Bathurst St, Sydney

Salsa, Tango
Level 1, 103 Foveaux Street Surry Hills

Bachata, Cha-Cha, Cuban-Salsa, Salsa, Tango
42 North Steyne Manly, Sydney

Bachata, Salsa

Wednesday Salsa lessons and social dance in Manly. Check out our website for more details!
Festivals Near Here