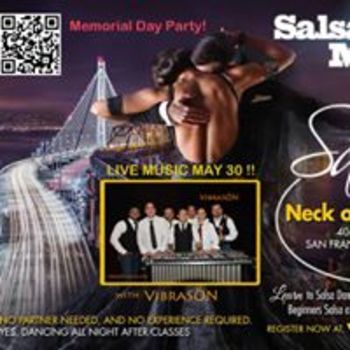 Monday weekly (Check links before attending)
SalsaCrazy Salsa Dance Mondays, 406 Clement St, San Francisco, CA, United States, 94118
Location:
San Francisco, USA
SalsaCrazy Dance Mondays
Last edited: Monday, May 2, 2016
THE place to party on Monday is SalsaCrazy Dance Mondays! With great classes and music, two dance floors and full bar, the crowd is always cool.
On May 30: It's SC Memorial Day Party!!!
VibraSON will play LIVE at the Party! We start early so be there to enjoy a full evening of dancing! Great Live Salsa by the some of the best musicians in the Bay Area!
Advance Ticket Sales Here! www.DanceSF.com
From SalsaCrazy:
Dear DanceSF'ers & SalsaCrazy,
Join us this Monday, Learn Salsa, Dance All night
Live Salsa Band - VIBRASON, after class ...
Come to Neck of the Woods, 406 Clement Street, SF, 21+
No partner or Experience Required, 7:45 Doors, 8p Lesson
-> LEARN HOW TO DANCE SALSA! Beginner Lessons at 8p.
Please help us share this event!
Get your friends to LEARN Salsa with our great beginner lessons.
-> Perfect for Brand new Salsa Dancers ...
NOTE DATE CHANGE: was originally Apr 4, then May 2, now May 30!
More Events Near Here
No listings found
Classes Near Here
18 Harlan Place, San Francisco, CA 94108

Salsa

Notice: Due to competition for space between Bar happy hour crowd and the salsa class, the classes by Jake are suspended for the time being. . . Latin Vibe...
Festivals Near Here