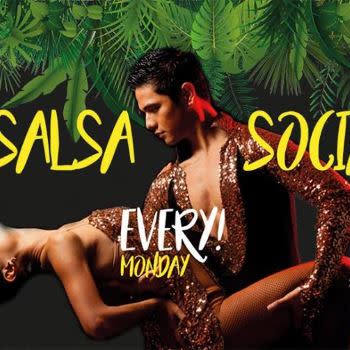 Monday weekly (Check links before attending)
Any Given Monday Madrid, Calle de Serrano, 45, Madrid, Spain, 28001
Salsa Social at Any Given Monday
Last edited: Tuesday, August 8, 2017
Hey friends! Are you ready to have fun, meet new people and improve your dance moves?
Now you can learn and practice Salsa, Bachata and Merengue moves FOR FREE - NO RESERVATION REQUIRED and no need to bring a partner !
Every Monday at Le Boutique you will have the chance to learn Salsa and latin moves with PROFESSIONAL TEACHERS. Everyone is welcome from complete beginners to the more confident dancer.
Come along and learn some of the hottest dances of the moment !
✘FREE SALSA LESSONS every Monday from 22h to 00h00.
✘FREE OPEN BAR from 00h00 to 1h
✘2 LONG DRINKS X 10 € from 00h00 a 1h
✘ LIVE BAND 00h00 to 1h
✓ WHEN: Every Monday at 22.00
✓ WHERE: LE BOUTIQUE Club | Calle Serrano, 45
✓ METRO: Serrano
Live it, Love it, Be it! Be Madrid!
www.bemadrid.com
------------------------------------------ESPAÑOL-----------------------------
Amigos! Estas listo para divertirte, conocer a nuevos amigos y mejorar tus pasos de baile?
Ahora puedes aprender y mejorar tus pasos de Salsa, Bachata y Merengue GRATIS - NO HACE FALTA APUNTARSE y no hay que venir en pareja !
Todos los lunes en Le Boutique tendrás la oportunidad de practicar salsa y bailes latinos con MAESTROS PROFESIONALES.
Esta es una gran oportunidad para divertirte con tu grupo de amigos y bailar hasta el amanecer.
No seas tímido y únete en la siguiente sesión de baile.
✘CLASES DE SALSA GRATIS todos los lunes de 22h a 00h00.
✘BARRA LIBRE GRATIS 00h00 a 1h
✘2 COPAS X 10 € 00h00 a 1h
✘BANDA EN VIVO DE 00h00 a 1h
✓ CUANDO: Todos los lunes de 22h a 00h00
✓ DONDE: LE BOUTIQUE Club | Calle Serrano, 45
✓ METRO: Serrano
Live it, Love it, Be it! Be Madrid!
www.bemadrid.com
More Events Near Here
No listings found
Classes Near Here
Festivals Near Here