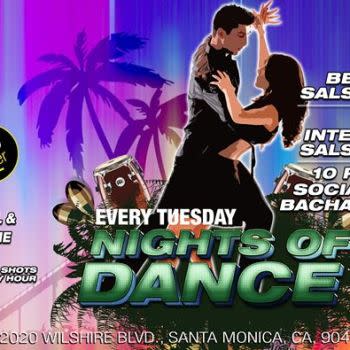 Tuesday, 18 June 2019
Senator Jones, Los Angeles, USA
Location:
Los Angeles, USA
Salsa & Bachata at Sen Jones by Nights of Dance June 18th!
Last edited: Friday, June 14, 2019
For the latest description check the
Event Link
More Events Near Here
Saturday, 21 September 2019

Los Angeles Dance Center, 342 N Ford Blvd
Thursday, 26 September 2019

52 Windward Ave, Venice, California 90291
Saturday, 28 September 2019

Unified On2 Social, 1502 E Warner Ave
Classes Near Here
2221 Harbor Blvd, Costa Mesa, CA 92627
2621 Pico Blvd, Unit K, Santa Monica, CA 90405

Cuban-Salsa

Come learn the fundamental basic elements, lots of variations and the combinations that make up "Rueda de Casino"
1618 Cotner Ave, Los Angeles, CA, USA

Bachata, Salsa

Salsa Classes:Join us for Salsa class every 2nd Saturday at the Blen Blen social! Each month, you'll learn fundamentals of Salsa, musicality, rhythm, footw...
342 N Ford Blvd, East Los Angeles, CA 90022, USA

Cha-Cha, Mambo, Salsa

On2 Courses now available.Book with code LDC for a $5 discount.For more information to to book your course visit Eventbrite (discount automatical...
Festivals Near Here