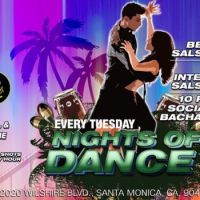 Tuesday, 18 June 2019
Senator Jones, Los Angeles, USA
Location:
Los Angeles, USA
Salsa & Bachata at Sen Jones by Nights of Dance June 18th!
Last edited: Friday, June 14, 2019
For the latest description check the
Event Link
More Events Near Here
Thursday, 20 June 2019

Yambu Productions Presents - Los Angeles, California
Friday, 21 June 2019

TheGranadaLA - 17 S 1st St, Alhambra, California 91801
Sunday, 23 June 2019

Latin Nights at V Lounge - 6101 Reseda Blvd, Tarzana, California 91335
Classes Near Here
342 N Ford Blvd, East Los Angeles, CA 90022, USA

Cha-Cha, Mambo, Salsa

On2 Courses now available.Book with code LDC for a $5 discount.For more information to to book your course visit Eventbrite (discount automatical...
2221 Harbor Blvd, Costa Mesa, CA 92627
965 Presidio Sq, Costa Mesa, CA 92626
1618 Cotner Ave, Los Angeles, CA 90025-3304

Cuban-Salsa

Come learn the fundamental basic elements, lots of variations and the combinations that make up "Rueda de Casino"
1618 Cotner Ave, Los Angeles, CA, USA

Bachata, Salsa

Salsa Classes:Join us for Salsa class every 2nd Saturday at the Blen Blen social! Each month, you'll learn fundamentals of Salsa, musicality, rhythm, footw...
Festivals Near Here
Discount Tickets

$50 Discount on Full Passes

Thursday, 20 June 2019

Location:

Washington DC, USA

5000 Seminary Rd, Alexandria, Virginia 22314
Wednesday, 03 July 2019

3801 S Las Vegas Blvd Las Vegas, Las Vegas, Nevada 89109
Thursday, 04 July 2019

Location:

Washington DC, USA
Thursday, 04 July 2019

9840 International Drive, Orlando, Florida 32819