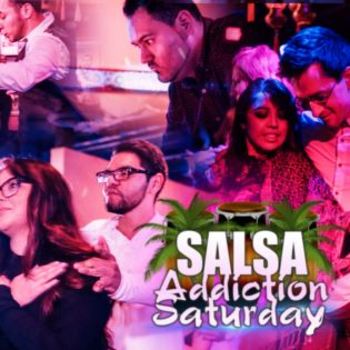 Saturday, 16 September 2017
1212 E Apache Blvd, Tempe, AZ 85281, USA
Salsa Addiction Saturday
Last edited: Wednesday, December 25, 2019
Dance to the best Salsa Dura music with splashes of Bachata and Kizomba at Tempe's once a month social event, hosted by Tonino and Heather at the beautiful Moroccan Paradise Restaurant & Lounge, 1212 E Apache Blvd, Tempe, Arizona 85281.
Times:
9 PM - 10 PM, Salsa & Bachata Dance Lessons
10 PM -3 AM, Open Dancing
* Dress to impress
* A Red Carpet event
* Professional Photographer
___ CONFIRMED ___
>>> Performance by
Local and national performance teams
>>> Music by
DJ D-Lo, DJ Ben,
>>> Dance Lessons
Raziel, Araceli, Tonino
>>> Photography by
Massato Photography
https://kubm.smugmug.com/
_________________________
Cover:
FREE until 10pm for all registered guest
$10.00 for unregistered guest
Register now to be on our guest list at www.SalsaAddictionSaturday.com
BOTTLE SERVICE with reserved sectioned table $99
>>>Call (520) 222-7050 to reserve your table early
(Limited tables available)
IS YOUR BIRTHDAY THIS WEEK?
Let's celebrate your birthday together with a special dessert treat on us. Simply show a valid ID card.
>>> Kitchen will be open until 3 AM
>>> Combo Burger + French Fries + House Drink for only $8.00
PARKING
In front of Moroccan Paradise Restaurant and by Filbertos's Restaurant (see map)
THINKING ABOUT PERFORMING?
Send us a message with your video to [email protected]
This event features a warm welcome by the staff at the family friendly Morrocan Paradise Restaurant & Lounge, with a delicious menu, beautiful dancers, great DJs, amazing dance performances, good vibes and ever-lasting memories.
Salsa Addiction Saturday Team
www.SalsaAddictionSaturday.com
More Events Near Here
No listings found
Classes Near Here
Festivals Near Here