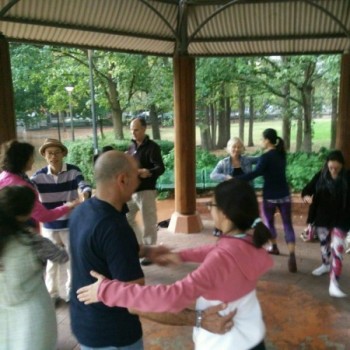 Sunday weekly (Check links before attending)
Glebe Park, Canberra ACT, Australia
Location:
Canberra, Australia
Rueda De Casino Cuban Salsa
Last edited: Friday, October 11, 2019
This is one of our weekly Sunday Rueda event. It is held under the Rotunda in the Glebe Park. Rain or no rain.
Rueda means 'circle' in Spanish. This is a fun progressive dance to Latin (SALSA) music. Like square dancing, Rueda has a leader who 'calls' out the moves. The men lead and the women follow ( although the 'leadership' role is open to anyone). Rueda is a very social dance and it is important to watch the 'caller' and move in time with the music.
Anyone with Rueda experience are welcome.
If you wish to learn the Rueda moves as beginner, you can attend the Saturday's free Rueda for beginners event. Keep an eye out on the Facebook group for these details.
For your safety and comfort, please wear comfortable and soft footwear.
Public Liability Waiver
By RSVPing "Yes" or attending this event you acknowledge and accept that no public liability insurance covers this event and you indemnify the Group, its leaders, those assisting the organising and those participating in the activity against any injury or loss you may sustain or cause to others through your participation in the event.
Vivaz Dance Shoes
Exclusive Discount
VIEW DEAL
- Get $15 OFF your next purchase
Shipped from Australia. 30 day money-back guarantee.
More Events Near Here
Sunday, 01 March 2020

54 Northbourne Ave,, Canberra, Australian Capital Territory 2601
Sunday, 08 March 2020

175 City Walk, Canberra, Australian Capital Territory 2602
Saturday, 14 March 2020

5 Mountevans St, Mawson, Canberra, Australian Capital Territory 2607
Saturday, 28 March 2020

5 Mountevans St, Mawson, Canberra, Australian Capital Territory 2607
Classes Near Here
Festivals Near Here