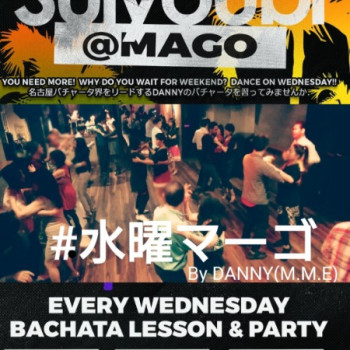 Wednesday weekly (Check links before attending)
B2 Flex Bld 2-1-9 Shinsakae. Nka-Ku Nagoya City. JAPAN
Latin Wednesdays At Club Mago
Last edited: Sunday, October 13, 2019
Every Wednesday at CLUB MAGO!
This is the only place you can dance Salsa/Bachata on a Wednesdays in Nagoya!
Matrix Music Entertainment (MME) is a group of dancers and DJs based in Nagoya, Japan united by the Bachata instructor, DJ and event organizer Danny (Daniel Sakibaru).
We are very excited to share our dance and music experience with you.
Every Wednesday, there will be 2 Bachata lessons by our Instructor Danny followed by a fun Latin party.
We welcome beginners to advanced level dancers of all styles!
*** Time ***
19:00 - 20:00 Bachata Lesson Beginner *
20:15 - 21:30 Bachata Lesson Intertediate*
21:30 - 24:00 Party (Salsa 50%, Bachata 50%, other genre on request)
* Lesson Schedule
Week 1, 3 MODERN STYLE
Week 2  SENSUAL STYLE
Week 4  DOMINICAN STYLE
Week 5 ALL STYLE
*** Price ***
1 Lesson 1,500 yen
2 Lessons 2,500 yen
Party 1,000 yen
Please send a message to our page if you have any question.
https://www.facebook.com/M.M.E.BACHATA/
We look forward to seeing and dancing with you!!!
****** Iustructor *******
Daniel Sakibaru (Danny)
Bachatero based in Nagoya.
Director of Touch Bachata Team Nagoya and Osaka produced by Ataca y La Alemana.
Director of Dom. Bachata Shcool "Dominican Swag" created by Dom.
Bachata pioneer Samy El Magico. Danny is currently teaching in Tokyo, Nagoya, Kobe, Okinawa etc.🗾As well as overseas spreading his love of bachata🌏
✈️ Recent International WS✈️
May 2018 France🇫🇷
Nov 2018 Dominican Rep.🇩🇴
Feb 2019 Brasil 🇧🇷
Oct 2019 Spain🇪🇸
******************************
More Events Near Here
No listings found
Classes Near Here
Festivals Near Here