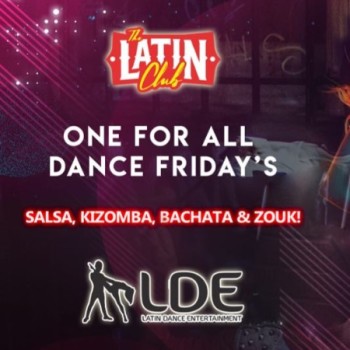 Friday weekly (Check links before attending)
Neptune Cafe & Bar, Auckland CBD, Auckland, New Zealand
Location:
Auckland, New Zealand
Latin Dance Friday's – One For All!
Last edited: Friday, June 26, 2020
BACK ON, BABY! New, beautiful Waterfront location with your favourite Friday night ONE FOR ALL crew.
We can't wait to see you again and especially against the backdrop of the water and the stars....(awwwww) so pretty!
This Friday Join Victor & Beth for a Salsa class and then a line-up of the best Latin Beats! Salsa, Bachata, Kizomba and of course, stick around till it gets late enough and get down to some Reggaeton and Latino Pop! We are allowed to make noise till laaate!
All included in your $10 entry fee is A FREE CLASS AND A PARTAAAY.
This entry fee is like any other door charge, no exceptions. Whether you choose to come to classes and give it a whirl, come to partner or all of it! Yes, even if you are enjoying the music and the dancing from a cosy spot with a glass of wine, it's still $10 😉
Plenty of car parking beside Neptune  $10 all night or if you don't mind a 5min walk you can find a car park as cheap as $2-$4.
8.45-9.30 class
9.30 till late Social
The first 15mins of the class is aimed at anyone completely new so you can bring your friends and warm up while they give it a go!! After that, your experienced teachers will graduate the class up to the level of people in the room and will give more advanced dancers something to take away as well as those just starting.
We have heard you all and at 11pm the DJ will start to play to the CROWD! Request away and we will get your song out if we possibly can.🤩
$10 Cash or Eftpos for your convenience.
$5 after midnight. Come get down with Salsa, Bachata and Reggaeton in those darker hours ;)
See you on the D floor soon ❤
B&V from LDE (it's not our fault that rhymes)
More Events Near Here
No listings found
Classes Near Here
Grey Lynn Community Center,510 Richmond road,grey Lynn

Bachata, Salsa

Every Tuesday Join us at Latin Dance New Zealand - LDNZ for the new Fun Exciting 6 week Bachata courses the last one for the Year. Our dance academy will i...
Festivals Near Here