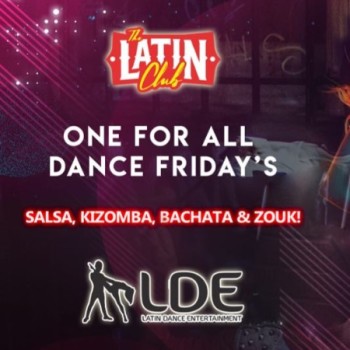 Friday weekly (Check links before attending)
27 Drake Street, Auckland CBD, Auckland, Auckland, Nueva Zelanda
Location:
Auckland, New Zealand
Latin Dance Friday's – One For All!
Last edited: Tuesday, November 26, 2019
Starting every Friday at this gorgeous venue we welcome you to a land where we promise equality! Yes, MUSIC equality!
$5 Entry (cash only) which includes two free classes in different styles depending on what the people want and social dancing till laaaaaate!!
One of EACH songs from Salsa, Kizomba, Bachata and Zouk on a rotation so no one has to stand around while a million songs of a style they don't do gets played!!!! And this is only if the weather is bad.
If it's good weather, we have a whole Kizomba area so the main room becomes an even quicker rotation of all three genres. WOOOOP!
We want this to be YOU focused and as impossible as it is to keep everyone happy we are here to give it our best shot.
Send Victor the names and artists of your fav dance floor tracks in Zouk, Salsa, Kizomba and Bachata or any other genre and have a range of different DJ's do your bidding.
Classes start at 8pm so come early, grab dinner and a drink from the incredible Tomtom's menu and get into it. Discounted drinks on the night!
House wine, beers, Pisco, Fernet $6
More Events Near Here
Friday, 24 January 2020

43 Vipond Road, Stanmore Bay, Auckland, New Zealand 0932
Saturday, 01 February 2020

136 Hurstmere Road, Takapuna, Auckland, New Zealand 0622
Friday, 07 February 2020

43 Vipond Road, Stanmore Bay, Auckland, New Zealand 0932
Classes Near Here
2 Bond Street Grey Lynn Centre

Bachata, Salsa

Every Tuesday Join us at Latin Dance New Zealand - LDNZ for the new Fun Exciting 6 week Bachata courses the last one for the Year. Our dance academy will i...
Festivals Near Here