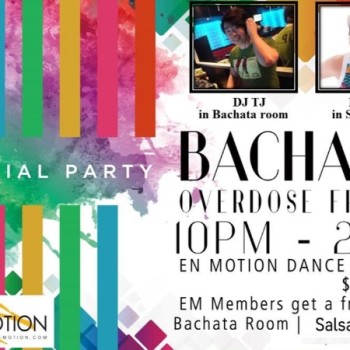 Friday weekly (Check links before attending)
Level 4, Orchard Cineleisure
En Motion Weekly Street Latin Night Friday
Last edited: Sunday, January 5, 2020
Introducing a brand new concept on En Motion Friday – Bachata Overdose Friday!
Moving into our brand new studio in Cathay Cineleisure, we will now have 1 rooms* of pure Bachata music and 1 room of Salsa music! Prepare to be spoilt with choices on which room to go
Swing by En Motion Bachata Overdose Friday party weekly now!
Bachata Room – 90% Bachata
Salsa Room – 90% Salsa
Fees: $5 for all
(En Motion members will receive a complimentary bottle drink)
More Events Near Here
Wednesday, 26 February 2020

The Studio 112 Middle Road #07-02, Singapore 188970
Thursday, 27 February 2020

112 Middle Road Midland House Level 7, Singapore 188970
Thursday, 27 February 2020

The Studio 112 Middle Road #07-02, Singapore 188970
Sunday, 15 March 2020

1 Tras Link, #02-08, Singapore 078867
Classes Near Here
Festivals Near Here