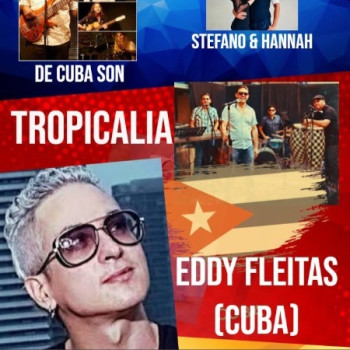 Saturday, 07 December 2019
Badlands Bar, Aberdeen Street, Perth WA, Australia
Location:
Perth, Australia
Cuban Explosion Tour
Last edited: Saturday, November 2, 2019
This SUMMER Feel the vibes from Authentic Salsa , Son Cubano, Guajira and Timba as TROPICALIA BAND turns the heat up with Special Guest EDDY FLEITAS DEL SOL . Born in San José de Las Lajas Havana-Cuba , and visiting Australia for the first time, Eddy will offer some serious Afro-Cuban energy that will get you up and dancing. In his extensive career, Eddy has played in and out of Cuba, and in practically all Countries of South East Asia, being multiple festivals exhibiting his talent as Vocalist, Guitarist , composer and saxo player. Eddy's list of collaboration and Bands is ample , including Cuban Trio Mate, Mambo Club, Banda Morena, Havana Social Club band amongst others. Prepare yourself for a long night in Northbridge from 8pm till 2 AM as the show includes a selection of latin bands, including of course TROPICALIA BAND, and our diverse repertoire, along with the talented group DE CUBA SON directed by Cuban virtuoso Arvis Mena. Featuring Cuban Dancing Team Stefano & Hannah Free Parking at Venue Early Bird: $15 (+bf) Second release: $ 20 (+bf) Door: $25
Vivaz Dance Shoes
Exclusive Discount
VIEW DEAL
- Get $15 OFF your next purchase
Shipped from Australia. 30 day money-back guarantee.
More Events Near Here
Saturday, 05 September 2020

191 Beaufort St, Perth WA, Australia
Classes Near Here
Festivals Near Here