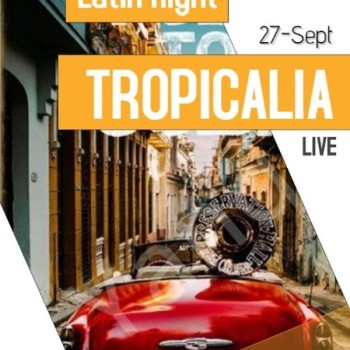 Friday, 27 September 2019
The Aardvark, Norfolk Street, Fremantle WA, Australia
Location:
Perth, Australia
Cuban Accent In Freo – Tropicalia Band
Last edited: Sunday, September 1, 2019
Tropicalia presents CUBAN ACCENT IN FREO!
Get down to The Aardvark this Spring for the impeccable sound of Tropicalia Band presenting a night of "Cuban Accent in Freo".
Our 4 Piece band features a cast of Afro Cuban Salsas, Bachatas, Merengues , Reggae, Reggaeton and Latin Pop, plus pecial guest dancers.
Friday 27 September | 7pm
Tickets $10 (+bf)
https://troplicalia.eventbrite.com.au
This is an 18+ licensed event. Valid photo ID is required for entry.
Vivaz Dance Shoes
Exclusive Discount
VIEW DEAL
- Get $15 OFF your next purchase
Shipped from Australia. 30 day money-back guarantee.
More Events Near Here
No listings found
Classes Near Here
Festivals Near Here