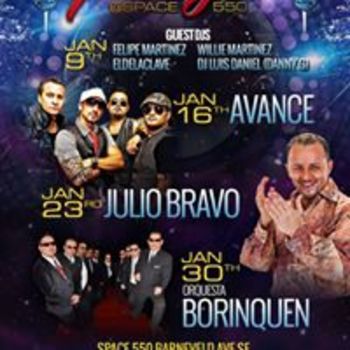 Saturday weekly (Check links before attending)
Space 550 Barneveld Ave SF Saturday party, 550 Barneveld Ave, San Francisco, CA, United States, 94124
Location:
San Francisco, USA
Club fuego at Space 550
Last edited: Tuesday, July 19, 2016
Join us for a Night of great Live Salsa with JULIO BRAVO Y SU ORQ April fool party- multiple room of great music- Salsa lesson at 9pm pre sale tickets for only $13 at www.fuegoclubsf.com 8pm till 2:30am Late night SATURDAY NIGHT DANCING plenty of parking join the party this Saturday -with additional rooms to dance BACHATA AND THE FUEGO ROOM WITH -merengue-bachata-cumbia-reggaeton-rock en espanol-top 40 and more..
More Events Near Here
Saturday, 29 February 2020

550 Barneveld Avenue, San Francisco, California 94124
Monday, 02 March 2020

2777 Fourth St., Santa Rosa, California 95405
Thursday, 05 March 2020

1317 San Pablo Avenue, Berkeley, California 94702
Friday, 06 March 2020

1317 San Pablo Ave, Berkeley, California 94702
Classes Near Here
18 Harlan Place, San Francisco, CA 94108

Salsa

Notice: Due to competition for space between Bar happy hour crowd and the salsa class, the classes by Jake are suspended for the time being. . . Latin Vibe...
Festivals Near Here