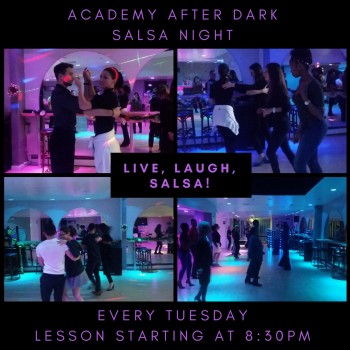 Tuesday weekly (Check links before attending)
2011 Sansom St, Philadelphia, Pennsylvania 19103
Location:
Philadelphia, USA
Academy After Dark Salsa Night at the Social Club
Last edited: Thursday, February 1, 2018
Academy After Dark Latin Night
Social Club, 8:30pm
2011 Sansom St (2nd Floor)
Philadelphia, PA 19103
Taught by world-renowned, professional International Latin Dance instructors.
Cover is $10 including instructional group lesson of Salsa, Bachata, or Merengue and social party after. Drink specials available.
Proceeds go to Academy Dances for Hope Children's Charity.
For questions or to RSVP, please call (215)-561-0323. Shall we dance?!
More Events Near Here
No listings found
Classes Near Here
Bachata, Cuban-Salsa, Merengue, Salsa
Festivals Near Here