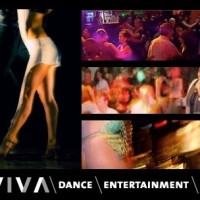 Address
Level 1, 241 Smith St, Fitzroy VIC, Australia
25-27 Hightech Place, Lilydale VIC, Australia
Location:
Melbourne, Australia
Styles Offered
Bachata, Cha-Cha, Cuban-Salsa, Kizomba, Merengue, Salsa, Tango, Zouk
More Information

http://www.vivadance.com.au

+61419361859

Timetable
Social Media

Class Information
It's so much fun, you won't even realize you are keeping fit and learning new skills at the same time! We specialize in providing authentic Latin American dance tuition from South & Central America. We are 100% committed to making you move the "Latin way".
Group lessons are taught on a casual basis which means, we teach different levels on different days. This allows you to take as long as you like to progress with your dancing.
Celebrating latin culture in Australia. VIVA specialise in providing a total entertainment concept, a true cultural experience from dance classes, live entertainment & floor shows to event production.
Contact Viva Dance & Entertainment Co.
More Classes Near Here
19 Brunswick Street Fitzroy

Bachata, Cha-Cha, Cuban-Salsa, Forro, Kizomba, Mambo, Merengue, Salsa, Samba

Specialists in Cuban, Latin and African Dance Styles
United Styles, Corner Brighton Road and Chapel Street, St Kilda, 3182

Bachata, Salsa, Samba

Monday nights - 7:30-9:30pm Level 1 & Intermediate Bachata Sensual  Thursday nights - 7:30-9pm 4 week Beginner Bachata course every calendar month Pri...
Bachata, Salsa, Tango

Wednesday 8 to 9:30 pm: Salsa Los Angeles style. Open levels. Saturday 1 pm:Bachata (Open level) - 2 pm:Salsa Los Angeles style. Open levels. - 3 pm: Tango open level - 4 pm: Tango Intermediate
480C Glen Huntly Rd, Elsternwick VIC 3185, Australia

Bachata, Cha-Cha, Cuban-Salsa, Kizomba, Salsa, Samba, Tango

Destine dance covers many styles of partner dance. We encourage you to try all of them, but, we also realise that dance is for you. Therefore, we can accommodate you as much as is possible to give you want you want, which we also know can change. Because we want it to be about you, and we are ready to help you get what you want, Destine Dance is the perfect place for you to learn dance. You can come for private lessons to really accelerate your learning or you can start with our group lessons for a fun a and social entrance into dance.
Vivaz Dance Shoes
Exclusive Discount
VIEW DEAL
- Get $15 OFF your next purchase
Shipped from Australia. 30 day money-back guarantee.