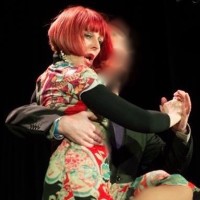 Address
327 Swan Street, Richmond VIC, Australia
Location:
Melbourne, Australia
Styles Offered
Tango
More Information

https://www.tangomelbournetangueria.com/

0418331638
Social Media

Class Information
Learn Tango Argentino from the streets of Buenos Aires.
Natural organic style - sensual - fun - dynamic
Learn fast from simple effective technique.
Our experienced teachers have learnt from the tango masters of Buenos Aires, 20 years of teaching and performance training.
The Tangueria is the real deal having taught and performed throughout Australia. Europe, Asia and Nww Zealand.
No partner required.
Learn dance for the healthiest happiest activity and if it's Tango Argentino....even better
Contact The Tangueria/Sidewalk Tango
More Classes Near Here
218 Glen Huntly Rd, Elsternwick VIC 3185

Bachata, Cha-Cha, Cuban-Salsa, Kizomba, Salsa, Samba, Tango

Learn salsa, bachata and more
936 North Road, East Bentleigh, 3165

Bachata, Ballroom, Cha-Cha, DanceSport, Salsa, Samba, Zouk

The home of State, National & World Champions. Salsa, Bachata, Zouk & Latin
The Secret Garden of Dance

Dance Tuition in Bachata, Kizomba and Cuban Salsa
189 Chesterville Road, Moorabbin

Bachata, Ballroom, Cha-Cha, Cuban-Salsa, DanceSport, Merengue, Salsa, Samba, Tango

Moorabbin based dance company with over 30 years of teaching experience offering everything from Salsa, Bachata to Ballroom & Latin dance.
Vivaz Dance Shoes
Exclusive Discount
VIEW DEAL
- Get $15 OFF your next purchase
Shipped from Australia. 30 day money-back guarantee.