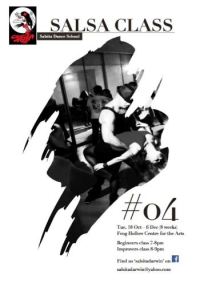 Address
Frog Hollow Centre for the Arts, 56 McMinn St, Darwin
Location:
Darwin, Australia
Styles Offered
Bachata, Salsa
More Information

http://www.salsitadarwin.com.au
Class Information
Salsa is rapidly growing in the Top End. Since 1998 "SALSITA" Dance School has has made a huge contribution to Salsa scene in the Northern Territory teaching hundreds of territorians to Salsa dance.
Salsa is a contagious and addictive dance that has taken the world by storm and we intend to make the Northern Territory a part of it. Salsita Dance School focuses on Salsa (LA style on 1) and Bachata. Currently we run two Salsa classes (Absolute Beginners and Advanced Beginners) from 7-9pm on Tuesdays. We have many years of experience in teaching and our practical, fun and easy way of teaching will help you feel confident on the dance floor and enjoy yourselves.
Contact Salsita
More Classes Near Here
Vivaz Dance Shoes
Exclusive Discount
VIEW DEAL
- Get $15 OFF your next purchase
Shipped from Australia. 30 day money-back guarantee.