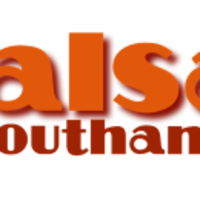 Address
St Barnabas Church Hall, Lodge Road, Southampton SO14 6QS, UK
Location:
Southampton, UK
Styles Offered
Bachata, Cha-Cha, Cuban-Salsa, Mambo, Salsa
More Information

https://salsasouthampton.co.uk/

07956 318283

Timetable
Social Media

Class Information
Dancing is fantastic for the mind, body & soul, and partner dancing is brilliant for socialising and making new friends, so if you want to get your Latin groove on, we can help you make it happen!
We provide Salsa & Bachata classes at all levels, with weekly classes on Wednesdays & Thursdays based at Tracies Latin Club
Salsa has been taught at Tracie's Latin Club since 1996, and some of our team at Salsa Southampton have taught there since it opened. Our wonderful teachers have a wealth of experience, including several who have taught and/or performed at international congresses.
Salsa is particularly fun & lively – bound to put a smile upon your face, and Bachata gives the opportunity to express the more sensual side of the music with beautiful, fluid body movements.
Come and join us – forget your worries, meet new friends, keep fit, learn a new skill, and above all…
Have loads of fun!
Fortnightly Cuban classes on Wednesdays - 7.15-8.15pm - (some cross body salsa experience is essential) beginners and intermediate drop in classes.
Weekly Wednesday Salsa 8.15pm - 9.45 pm with practice dancing until 11pm - Booking required for absolute beginners course and level 2 course drop in classes for all levels
Fortnightly Specials class on Thursdays (footwork, Pachanga, chacha etc) & Fortnighly Bachata classes - 7.15-8.15pm alternating with each other. (see website for dates)
Weekly Thursday Salsa 8.15pm - 9.45 pm with practice dancing until 11pm - Booking required for absolute beginners course and level 2 course drop in classes for all levels
Contact Salsa Southampton
More Classes Near Here