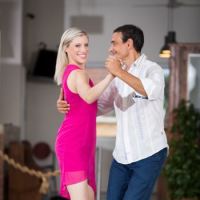 Address
163 Boundary St, West End, Q 4101
Location:
Brisbane, Australia
Styles Offered
Bachata, Bolero, Cuban-Salsa, Forro, Gafieira, Merengue, Salsa, Samba, Tango, Zouk
More Information

http://www.riorhythmics.com.au

07 3844 1824
Social Media



Class Information
Rio Rhythmics are leaders in empowering people to improve their lives through Latin dance and culture. Here you will find an inclusive community of people who come together from a wide range of backgrounds to enjoy professional Latin dance tuition and social dance. Rio Rhythmics specialises in creating joyful connections while you learn invaluable life skills and create life long friends.
Dance classes run 7 days per week with social nights every Friday and Saturday night.
Since it's inception Rio Rhythmics has brought the joy of connecting with others through Latin dance to over 35,000 people and continues to innovate in the world of adult dance tuition.
Rio Rhythmics also brings a wide range of professional Latin entertainment suitable for any event large or small. From Brazilian Carnaval to the elegance and passion of Argentine Tango, we can provide the right fit for your next event.
Book Class
Filter Classes
No class times available.
Contact Rio Rhythmics Latin Dance Academy
More Classes Near Here
Bossa Latina, Evesham Street, Moorooka QLD, Australia

Bachata, Bolero, Forro, Gafieira, Salsa, Zouk

Bossa Latina is a Brisbane based latin dance school, providing dance classes for adults, by knowledgeable and friendly dance teachers. Bossa Latina is all about learning to dance YOUR way. We want you to feel comfortable, to have fun, and to learn how to dance in your own unique style. From Brazilian Zouk, Salsa & Bachata, to Bolero, Forró & Samba de Gafieira, we love it all and look forward to sharing it with you!
Vivaz Dance Shoes
Exclusive Discount
VIEW DEAL
- Get $15 OFF your next purchase
Shipped from Australia. 100 day money-back guarantee.