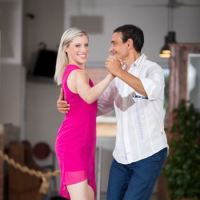 Address
163 Boundary St, West End, Q 4101
Location:
Brisbane, Australia
Styles Offered
Bachata, Bolero, Cuban-Salsa, Forro, Gafieira, Kizomba, Merengue, Salsa, Samba, Tango, Zouk
More Information

http://www.riorhythmics.com.au

07 3844 1824
Social Media



Class Information
Rio Rhythmics is Australia's first Latin dance academy and offers a unique Latin dance curriculum starting with Latin Dance Starter where you unlock the basics of 6 of the most popular styles in just 8 weeks. From there you continue onto the full Foundation program which encompasses 8 different styles. Other Starter programs include Samba, Tango, Cuban Salsa and Kizomba Starter courses. If you're an experienced dancer enjoy courses specialised across 11 different Latin dance styles through to advanced and performance level.
Contact Rio Rhythmics Latin Dance Academy
More Classes Near Here
17 Gibbon Street, Woolloongabba
197 Boundary Street, West End

Kizomba

♡ WEEKLY KIZOMBA CLASSES IN BRISBANE ♡WEDNESDAY6:30pm ~Kizomba Intermediate Level7:30 ~ Kizomba Beginners (8 weeks starting June 26)8:3...
Vivaz Dance Shoes
Exclusive Discount
VIEW DEAL
- Get $15 OFF your next purchase
Shipped from Australia. 30 day money-back guarantee.