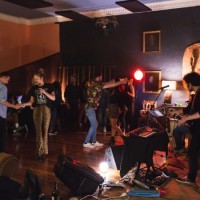 Address
Location:
Melbourne, Australia
Styles Offered
Salsa
More Information

https://www.facebook.com/events/690803531322036/

04346890607

Timetable
Social Media

Class Information
It's never too late to learn to dance.
Over 6 weeks, this salsa course breaks down rhythm and timing, basic footwork variations and leading/following fundamentals, with basic turn patterns at a slow pace. You'll be able to hit the floor with basic moves within a few weeks.
No experience necessary.
Ladies and men learn their footwork individually for the first 15 or so minutes of the class then we partner up and put it all together!
Prices:
$300 per couple for 6 week course.
$150 for individuals.
ABOUT YOUR INSTRUCTOR
KAREN BRAVO GARCÍA
Karen is a versatile performing artist from Colombia. She specialises in Afro Colombian Dance and Latin rhythms. Interested in the traditional folklore from her home country and fusion music, drawing influence from her African roots and fuses it with other styles.
Contact Manorisms
More Classes Near Here
218 Glen Huntly Rd, Elsternwick VIC 3185

Bachata, Cha-Cha, Cuban-Salsa, Kizomba, Salsa, Samba, Tango

Learn salsa, bachata and more
936 North Road, East Bentleigh, 3165

Bachata, Ballroom, Cha-Cha, DanceSport, Salsa, Samba, Zouk

The home of State, National & World Champions. Salsa, Bachata, Zouk & Latin
The Secret Garden of Dance

Dance Tuition in Bachata, Kizomba and Cuban Salsa
189 Chesterville Road, Moorabbin

Bachata, Ballroom, Cha-Cha, Cuban-Salsa, DanceSport, Merengue, Salsa, Samba, Tango

Moorabbin based dance company with over 30 years of teaching experience offering everything from Salsa, Bachata to Ballroom & Latin dance.
Vivaz Dance Shoes
Exclusive Discount
VIEW DEAL
- Get $15 OFF your next purchase
Shipped from Australia. 30 day money-back guarantee.