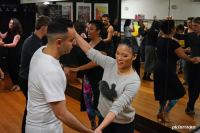 Address
23 Bridge Road, Richmond, Victoria, Australia 3121
Location:
Melbourne, Australia
Styles Offered
Bachata, Cha-Cha, Mambo, Salsa, Zouk
More Information

http://www.locomojodance.com.au

0416 483 489
Social Media



Class Information
LocoMojo Dance specialises in Street Latin dances, like salsa, bachata, mambo and zouk, that are easy to learn and fun to dance socially. Our structured Street Latin Dancer program is designed for progressive learning so you will see definite improvements from week to week. We can bring the dancer out in anyone so let us share with you our love of dance, LocoMojo style!
Gallery
Videos
Contact Loco Mojo Dance
More Classes Near Here
Level 1, 341 Lygon Street, Carlton, Victoria, Australia

Zouk

DanceIM specialises in Brazilian Zouk, and is owned and directed by internationally known dancer Izzy Washington. We at DanceIM believe that dance has coun...
341 Lygon Street, Carlton, Victoria, Australia

Bachata, Cha-Cha, Cuban-Salsa, Salsa

Come down and enjoy classes in Cuban Salsa (Casino) and other Cuban rhythms like Son and Cha Cha Cha with Maxine and the AContra team. Classes start at 7pm...
281-283 Swan Street
Richmond
3121, VIC

Bachata, Salsa, Samba

You're just a couple of steps away (pardon the pun) from your best decision this year ;-) Learn to dance. Make new friends. Join the family. We teach Salsa, Bachata and Brazilian Samba. We teach it right and have been doing so for more than 15 years. But don't just take our word for it... -> https://www.melbournelatindance.com.au/what-our-students-love-about-mld Melbourne Latin Dance. Melbourne's Home of Latin Dance.
19 Brunswick Street Fitzroy

Bachata, Cha-Cha, Cuban-Salsa, Forro, Kizomba, Mambo, Merengue, Salsa, Samba

Specialists in Cuban, Latin and African Dance Styles
Vivaz Dance Shoes
Exclusive Discount
VIEW DEAL
- Get $15 OFF your next purchase
Shipped from Australia. 30 day money-back guarantee.